It's easy, it's fun to play PLUS you'll get to make good use of your social networking skills trying to win 😉
So what are we giving away???
VAinsider Club One Year Supercharge Membership (Valued at $333)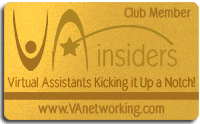 The VAinsider Club is made up of both new and veteran VAs who truly care about the success of their business and the VA industry, as a whole.
VAinsiders understand that creating a solid and successful business takes the support of others and the VAinsider Club is providing that support for them. The VAinsider Club has become a place where members can get answers to their questions, celebrate their successes and just "hang out" with like-minded business owners in a fun, collaborative, educational and exciting way. Check all the club benefits for your service business that you'll win at our website.
VAnetworking.com is giving away a One Year Supercharge VAinsiders Club Membership ($333 value) to one lucky winner. 
And you can get 75+ entries today with more entries each day if you really want to win!
Wait for the form below to load and start entering to win.  Make sure to complete all the mandatory requirements or your entry will not count.  The contest closes October 31st, 2012.