Warmest Wishes at Christmas
time from My family to yours,
and I want to add a personal side, here is an image of last years photo of me and my kids but it was in Nebraska and it was too snowy outside, but this year, I havent put pics together yet from out santa hats and xmas tree (2 ft) with my kids at the Beach, yes its been cold but at least I can drive on dry roads and not slide around trying to xmas shop.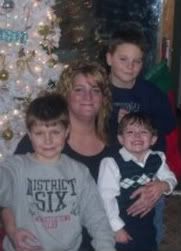 and then a month ago
Yep this is me and my kids Twins are 9 and my baby is 3, I am getting in the Christmas spirit even more so as Christmas gets closer, and this year I am even more greatful I for the first time have been able to get the twins into sports but with a catch I got made the basketball coach Yay, OMG I am loving what I do and thankful to all of my VA friends and family who has made this past year so much more than I can imagine. Thank you all and I look forward to another great year.