Find the Ultimate VA for Your Business Today!
Since 2003 we have been the market leader in the VA industry AND you can depend on us to help you find the best Virtual Assistant (VA) for your business needs.
Submit a Job to our Virtual Assistant Job board (FREE to Submit)
We wish you success in finding the ultimate VA for your business needs!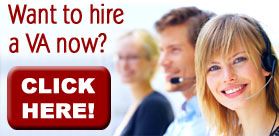 CLICK HERE to Submit Job Proposal TODAY!
(FREE SERVICE to help you hire a VA for your business needs)