Virtual Assistant Specialty Education Series (VASES)
Virtual Assistant Specialty Education Series (VASES)
Click on a VASE to view the workshops, courses and training programs for each:
VASES is an acronym for our Virtual Assistant Specialty Education Series. These are Virtual Assistant training programs specifically designed and approved by VAnetworking.com, the market leader for Virtual Assistants. These Virtual Assistant training programs will further educate a Virtual Assistant in areas of business that will help them gain more clients, market their business, build their business service list and give them the credentials to help them stand out from their competition. Areas like business, educate, marketing and networking.

These Virtual Assistant training programs are taught through various multimedia learning environments like audio interviews, screen capture videos, video lectures, workbooks and study guides all with a user friendly virtual testing environment.
These VASES training programs are a vessel to not only keep you up to date with business strategies but to also give you the proven credentials that you can sport on your website to entice new potential clients.
It's a proven fact, clients want to see credentials and proof that you can do what you say you can do to help them make money. Our VASES badges visually solve this problem for clients. They can easily search your the VASES on your website to see what you specialize in. With each training program we offer under each topic area (business, educate, marketing & networking), there will be a series of course badges (VASES) you can collect.
Each VASE from each learning area will be numbered according to which VASES program you have completed. So for example if you took and passed the "Referral Marketing VASpecialist, you'd receive a pink Networking VASES badge with the #2 on it which links back to this course so your clients can see what you achieved.
COLLECT ALL VASES badges for each group to proudly display on your website to show to your clients, credibility and trust in your services.
Here's a list of VASES programs we currently have available and you may visit each area by clicking on each one below
The Networking VASES

Our Networking VASES develop your social networking skills both on and offline. Communication is the key to success when working with your clients and business colleagues. Knowing how to network strategically will increase your odds of developing a long term relationship with your customers and clients. :
Current Networking VASES Programs available:
Top 3 Social Media Platforms VA Specialist with Kathy Colaiacovo
The Educate VASES:

Our Educate VASES will help you learn and develop the skills in different programs and software available. The Internet changes at a quick pace and you need to be on top of new programs coming out that can benefit not just you but your client success as well.
Current Educate VASES Programs available:
Web Graphics VA Specialist with Angela Wills

The Marketing VASES:
Our Marketing VASES are all about that, marketing. We will bring you programs here to increase the visibility of your website through strategic marketing programs that will have your clients knocking at your door begging to hire you.
Writing Website Copy VA Specialist with Karon Thackston
The Business VASES:

Our Business VASES hone in on your skills as an online business entrepreneur to inspire and encourage safe practices and growth within your business. It's not easy starting up a business online and knowing first hand the ins and outs of business processes but it is all easily learn-able. Stand out from your competitors and get a head start by learning some business sense.
Current Business VASES Programs available:
Stay tuned for excited programs to help your business strategically grow and stand out from your competitors
Stay ahead of your competitors, collect all the VASES (or just the ones that interest your niche) and sport them on your about/services page on your website.
The VASES programs each utilize a testing system and upon passing, you'll receive your VASE for the program you attended. Plus you may use the VASES as re-eduational credits towards VAcertified.com
What's makes our VASES programs different from others?
In-depth training that goes far beyond a mere Power Point presentation.
You'll follow along LIVE on the Internet and see exactly where you are and what you need to do to write professional-grade, optimized website copy.
Taught by highly skilled trainers who are experts in their specialties/niche
Q & A time allotted for every session so all your questions get answered PLUS you can ask questions later on in our VASES forum.
Life-time access to everything you learned inside our VASES member area where you'll find other perks like discounts to future training programs.
Recognized as re-education credits for VAcertified.com.
Builds credibility in the eyes of your potential clients when you display your VASES badges.
Tawnya's 100% Satisfaction VASES Guarantee

Buy and test-run any of our VASES live training programs by attending the first session. If you find that this program is not for you for whatever reason, we'll refund your money back 100% with 24-48 hours after your first session.
---
Do you have a program that would be of interest to the Virtual Assistant market? If so, please contact us to discuss.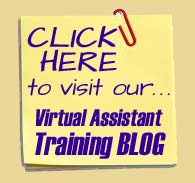 ---

Not a Member Yet?
REGISTER TODAY!
Invest in Your Virtual Assistant Business Today!
---
Blog Categories