VIRTUAL ASSISTANTS: Here's your Weekender Report to keep you "IN THE KNOW" with informative and entertaining resources for your virtual business success this coming week!
Included are:
VIRTUAL NEWS YOU CAN USE
1) Last chance to sign up to our new Virtual Assistant Training Program that starts on Monday!
Listen to the F.R.E.E. audio preview of this program and take away with you 5 tips to help you with your website copy.
If your clients aren't finding you online maybe you need to spruce up your website copy.  Finally! A Step-by-Step System for Turning Your Virtual Assistant Website into a Client-Generating Machine…

Karon Thackston, website and search engine optimized (SEO) copywriting expert, walks you through the steps to solve all your copywriting problems with your website sales copy like:
"Prospects can't find my website on the search engines."
"If they do find me online, they stay at my site for a few seconds then leave."
"I don't know what my site visitors are really looking for."
"I'm not sure how to position myself as the obvious choice."
"I need big-time help getting site visitors to take the action I want them to take."
Whether you want to learn to write excellent copy to boost the performance of your own website or you want to add this skill as a new, money-making service to expand your business and add to your service list, this LIVE series is the best place to start.
READ the full training program itinerary by CLICKING HERE
PS: Tawnya's 100% Satisfaction Guarrantee: Buy and test-run our course and attend the first workshop of our six schedule workshops. If you find that this program is not for you for whatever reason, we'll refund your money back 100% with 24-48 hours.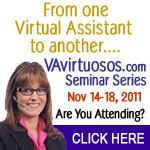 2) We are still looking for sponsors for our VAvirtuosos Seminars (VAVS) so please share with your business colleagues. You can read all about these advertising opportunities here:

VAinsider Club MotiVAtor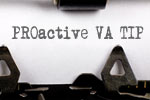 Flexibility is one of the keys to success. Things are always changing and evolving and if your business does not allow for the flexibility to change and evolve you will be left behind. Flexibility in business means planning for the future and the possible "what ifs" … thinking it out and preparing an answer now while you have an unbiased perspective and can truly focus on the best solutions to any possibility.
Receive more motiVAtional moments plus business strategies by becoming a VAinsider Club member today!
Your VAinsider Club membership starts at only $7/mth. Not much to pay nowadays to help your business get the upper hand in the virtual service world.
What are you waiting for? Become a VAinsider Club Member (Starting at $7/month).
eSEMINAR SCHEDULE – Mark your calendars!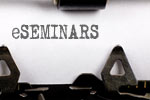 Stay up to date with times of all our educational business webinars by adding our schedule to your Google calendar now!
Listen to the recording of our previous webinar.  Karon Thackston joined us to teach us "Writing Website Copy that Ranks High & Gets More Clients".
Join us for #VAjot Socials at 4pm PDT every Thursday Night.
It's a social networking webinar to JOT down everything on our minds, from introducing new members to discussing positive flows within our businesses. We guarantee it will be a fun and informative social night for all to hang with their peers in the VA industry! All Virtual Assistants (or wanna-bees?) welcomed and please bring your URL with you to promote to us.
Stay up to date with times of all our educational business webinars by adding our schedule to your Google calendar now at:
Make sure you are registered to receive passwords to our complimentary webinars by signing up one time.
Follow our hashtag on Twitter: #VAjot
*****************************
HOT TOPICS AT FORUM THIS PAST WEEK:
You must be logged in to our Virtual Assistant networking forum to view responses below. Membership is FREE, Join our Virtual Assistant Social Network today!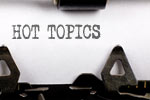 Hard Disk Maintenance Does one need more programs?
Tips for Your First Intro to our Network
Welcome to newest member from Europe/ UK & Germany
VAinsiders.com Club Mastermind Forum Members Only:
Read over 100,000 Virtual Assistant discussions at our Virtual Assistant Social Networking Forum It's FREE to join! What are you waiting for?
WEEKEND FREEBIE: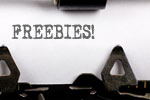 Courtesy of the VAinsiders.com Club, here is a VAinsider Report on "Building Your Networking Skills to Gain New Clients" that you can download for F.R.E.E.
And until next week…
To Your Virtual Success,

Tawnya Sutherland, CIMBS
The Market Leader for Virtual Assistants since 2003 www.VAnetworking.com

Tawnya is a Certified Internet Marketing Business Strategist from the University of British Columbia and has owned her own VA business for 20+ years. Her online marketing skills founded her VAnetworking.com in 2003, the market leader in the Virtual Assistant industry. Tawnya has become the go-to spokesperson and expert trainer/coach for Virtual Assistants wanting to share, learn more, and grow their businesses.
CLICK HERE
to check out all our FREE resources for VAs.


Latest posts by Tawnya Sutherland (see all)