VIRTUAL ASSISTANTS: Here's your Weekender Report to keep you "IN THE KNOW" with informative and entertaining resources for your virtual business success this coming week!
Included are:
VIRTUAL NEWS YOU CAN USE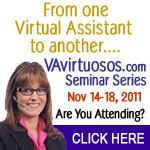 1)  ONLY 100 SEATS! Our VAvirtuosos Seminar Series (VAVS4) is back! This is our 4th season and once again we have some fantastic Virtual Assistants willing to share their knowledge with you to help you overcome hurdles in your service business. These VAs have been there and done it! After all: who better to learn trade secrets from than VAs who are slugging it out in the trenches and succeeding?
Our VAVS4 online conference (From one Virtual Assistant to Another) will be LIVE November 14th and we hope to see you there. Since you are a VAnetworking.com member I'm giving you a heads up before I announce the event to the general public on Tuesday. This year we only have 100 seats available in our conference room and I wanted to give you the opportunity to secure your seat.
You know from past years it is an event no Virtual Assistant should ever miss and it's still priced at an affordable amount as always. Only $19 for 20 seminars!
Don't wait, click here to register today for VAvirtuosos!
2) We are still looking for sponsors for our VAvirtuosos Seminars (VAVS) so please share with your business colleagues. We have one Package #1 or 2 left plus 8 Package #3s.
read all about these advertising opportunities here:

VAinsider Club MotiVAtor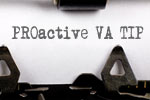 Take some time today to reflect on the reason that you started your business. As our businesses grow and evolve, unfortunately many of us lose focus of the things that motivate us the most. Today take a break, give thanks for your accomplishments thus far and then take sometime to yourself ~ you will be amazed at the re-energizing effect this can have on both you and your business.
Receive more motiVAtional moments plus business strategies by becoming a VAinsider Club member today!
Your VAinsider Club membership starts at only $7/mth. Not much to pay nowadays to help your business get the upper hand in the virtual service world.
What are you waiting for? Become a VAinsider Club Member (Starting at $7/month).
eSEMINAR SCHEDULE – Mark your calendars!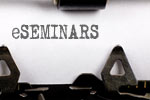 Stay up to date with times of all our educational business webinars by adding our schedule to your Google calendar now!
Listen to the recording of our previous webinar. Karon Thackston joined us to teach us "Writing Website Copy that Ranks High & Gets More Clients".
Join us for #VAjot Socials at 4pm PDT every Thursday Night.
It's a social networking webinar to JOT down everything on our minds, from introducing new members to discussing positive flows within our businesses. We guarantee it will be a fun and informative social night for all to hang with their peers in the VA industry! All Virtual Assistants (or wanna-bees?) welcomed and please bring your URL with you to promote to us.
Stay up to date with times of all our educational business webinars by adding our schedule to your Google calendar now at:
Make sure you are registered to receive passwords to our complimentary webinars by signing up one time.
Follow our hashtag on Twitter: #VAjot
*****************************
HOT TOPICS AT FORUM THIS PAST WEEK:
You must be logged in to our Virtual Assistant networking forum to view responses below. Membership is FREE, Join our Virtual Assistant Social Network today!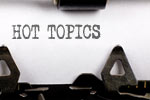 Input Tax Credits GST – Canada
Social Media Mktg. as an Admin
New member from North Carolina
VAinsiders.com Club Mastermind Forum Members Only:
Read over 100,000 Virtual Assistant discussions at our Virtual Assistant Social Networking Forum It's FREE to join! What are you waiting for?
WEEKEND FREEBIE: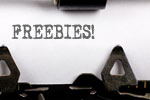 Courtesy of the VAinsiders.com Club, here is a VAinsider Report on "Building Your Networking Skills to Gain New Clients" that you can download for F.R.E.E.
And until next week…
To Your Virtual Success,

Tawnya Sutherland, CIMBS
The Market Leader for Virtual Assistants since 2003 www.VAnetworking.com

Tawnya is a Certified Internet Marketing Business Strategist from the University of British Columbia and has owned her own VA business for 20+ years. Her online marketing skills founded her VAnetworking.com in 2003, the market leader in the Virtual Assistant industry. Tawnya has become the go-to spokesperson and expert trainer/coach for Virtual Assistants wanting to share, learn more, and grow their businesses.
CLICK HERE
to check out all our FREE resources for VAs.


Latest posts by Tawnya Sutherland (see all)