You may have seen the term Private Label Rights or PLR articles being tossed around frequently lately.
PLR articles are articles you can buy (usually in packages or as part of a membership) that you may edit and use as you wish. Unlike free reprint articles, you are not required to link back to anyone else's website which makes them appealing to many web publishers.
Once you understand the concept behind PLR articles, you can see why they are appealing. Most people can envision the value of adding the articles to their websites. But, did you know there are more ways to use PLR articles than that?
1. Add them to your blog.
Similar to adding PLR articles to your website, you can take excerpts and use them on your blog for fresh content. Whether you take a portion and use it as a "tip of the day" or use the entire article, PLR articles can be a huge time saver for you.
2. Send them in your newsletter.
Need content for your newsletter? PLR articles are an option. Of course, if you're developing a relationship with your readers, you may wish to edit the articles to make them your own voice. However, you can pull a section from a PLR article – use it as inspiration — and whip out a newsletter in minutes.
3. Start an ecourse
If you purchase a package of PLR articles based on a theme, it's quite easy to turn them into an ecourse simply by adding them to your auto-responder. Something as simple as "Five Things You Can Outsource to Your VA" can become a 5 day ecourse to grow a big newsletter list.
4. Use them in your podcast
Take a PLR article and use it as inspiration for a podcast. Add the content and you're done.
5. Send them in a print mailing
Direct mailing is huge. If you have a list of postal mailing addresses, put together a free report from PLR articles and send it out.
6. Create a special report
Simply bulk together some PLR articles that have the same topic, and make them flow into a special report. Turn it into a pdf file and give it away to your website visitors.
See how easy that is?
You can rewrite, add your own words, remove words you don't want or so just do about anything with the PLR articles to help you get your writing creativity stirred for your readers so they'll keep coming back for more.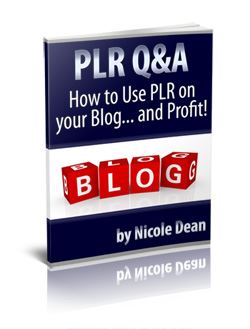 The only hard part is finding a PLR service that is high quality and fits your niche. Look around. Make sure the PLR package or membership you choose provides you with high quality articles so you can create something you'll be proud of.
For me, there's no easier way to learn about PLR than to visit my good friend Nicole's EASY PLR webiste. Here you'll learn exactly through her video what PLR is and how it can make your business work easier for you.
Plus, she's got a cool ebook you can download for FREE on "How To Use PLR on your Blog…and Profit"
To your virtual success,

PS: I use Nicole's PLR all the time for the content of many of my niche blog sites I have like my dog site, my blogger site, my card appreciation site and 50+ websites I have that I make affiliate commissions from.  You don't think I could write all that content myself every month do you? 😉

Tawnya is a Certified Internet Marketing Business Strategist from the University of British Columbia and has owned her own VA business for 20+ years. Her online marketing skills founded her VAnetworking.com in 2003, the market leader in the Virtual Assistant industry. Tawnya has become the go-to spokesperson and expert trainer/coach for Virtual Assistants wanting to share, learn more, and grow their businesses.
CLICK HERE
to check out all our FREE resources for VAs.


Latest posts by Tawnya Sutherland (see all)