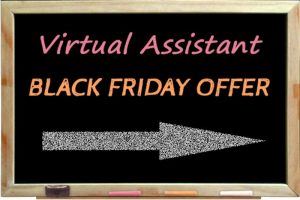 After seeing all the different Black Friday Offers coming across my email box this week I wanted to offer you a Black Friday Offer too! A training product specifically geared to owners of a service based business which would help your business get NEW CLIENTS!
It then occurred to me that within my VAinsiders Club we have been doing a series of "Getting Client Challenges" which have shown awesome results for our members. Our VAinsider members are getting new client retainers, selling more packages and filling up their client base since implementing these "Getting Client Challenges".
According to Google, the definition of "Challenge" is a call to take part in a contest or competition, especially a duel.
In our Getting Clients Challenge (GCC) series we want to challenge our members to always be working on getting new clients into their business sales funnel. Make them be held accountable over the course of a month or two of implementing specific tasks/ideas to enforce a specific topic we are currently working on.
We currently have 2 challenge offers available for you to choose from:
OFFER 1

– Website Creation/Conversion Getting Clients Challenge:
Website creation is a crucial part of your marketing plan if you want to get new clients through the world wide web. This 3 PARTchallenge will teach you step by step how to get your site online quickly and easily. Once online you'll learn how to convert your website traffic into paying clients and receive some constructive critiques to further help you with this challenge. Lifetime access.
During PART 1 and 2 of these training videos, I will present to you a list of ideas we can implement on our websites together as a group, to help us all get more clients through our website traffic. If you don't have a website yet you'll do the Website Creation Challenge. If you already have a website then you'll do the Website Conversions Challenge.
In PART 3, I provide you with constructive website critiques to further help you with this challenge.
OFFER 2

– Email Marketing Getting Clients Challenge:
It's common knowledge among online marketers that the $$$ is in the list. In this 4 Part Email Marketing Challenge you will learn how to implement email marketing into your arsenal to help you get more clients argo make more money. This training includes the following topics in video format:
PART 1
Why have a list.
Your Lead Magnet
Download 50 lead magnets ideas list
Homework: Figure out your niche/target market and create an bribe-able lead magnet to entice them to sign up!
PART 2
Putting Technology into Place
Follow-up Sales Funnel Series
Homework: Choose Email Marketing Program, Add form to your website, write/add 7 email autoresponders.
PART 3
Growing Your List
Content Creation
Download Free Report Template and Opt-in Page Template
Homework: Choose 4 ways to grow your list this month from the ideas suggested and implement same. Write 4 emails to send out over the next month (Every month write 4).
PART 4
Email Insights – Tracking & Reports
MotiVAtion ($$$)
Q & A
Homework: Set your email marketing GOALS, Start tracking your metrics to watch how closely you're trending towards your goals. Make changes in these metrics month over month if needed to reach your goals.
Both of these Getting Client Challenges are normally a one time payment of $97 each but because this is a BLACK FRIDAY SALE I'm offering them to you for a one time payment of ONLY $37 each if you use the coupon below upon ordering.
ORDER HERE Receive $60 off either by using this coupon code: BLACK2017
BUT WAIT…WANT TO GET BOTH OF THESE CHALLENGES FOR ONLY $37?
BEST BLACK FRIDAY OFFER:
Become a monthly VAinsider Club member and get both of these challenges above plus receive all our VAinsider member monthly benefits (see membership details below image) for ONLY $37!
Typically it costs $97 to signup as a monthly member then $37 each month thereafter (cancel at anytime).
BUT, I've decided to give you $60 OFF the initial signup fee so it will only be $37 instead of $97, how's that for a $60 SAVINGS? 😉
CLICK HERE TO ORDER ANY OF THESE PRODUCTS
Receive $60 off either by using this coupon code: BLACK2017
By becoming a VAinsider Club member you'll receive many benefits each and every month like…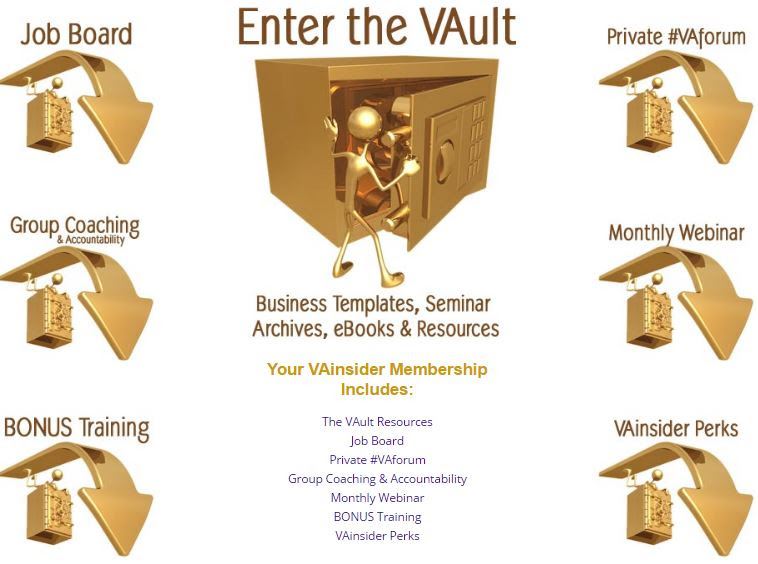 Busy job board with high paying quality jobs
Monthly group coaching and accountability
BONUS training programs – Email Marketing Challenge, Website Creation/Conversion Challenge, Proactive VA Series, Thriving Business Series, Website Copywriter Series, Web Graphics VA Series, WordPress 101 Series
Private VA Mastermind Forum
Monthly Training Webinars and/or Business Brainstorming Hours
Access to our VAult which includes over 400 one hour training videos, usable business templates & contracts, system sheets, ebook Library and social media marketing graphics
PLUS VAinsider Perks & Discounts from Preferred VA Product Partners
Receive $60 off either by using this coupon code: BLACK2017
ALREADY A VAinsider???
Don't worry I didn't forget about my VAinsiders…or those who want that GREAT DEAL and are ready to become a yearly member. If that's you then you'll save big time this week too.
SAVE DOUBLE >> $120 by using this coupon code: BLACK120
(Offers end midnight on November 30th, 2017)
Have fun Black Friday week shopping!

Tawnya is a Certified Internet Marketing Business Strategist from the University of British Columbia and has owned her own VA business for 20+ years. Her online marketing skills founded her VAnetworking.com in 2003, the market leader in the Virtual Assistant industry. Tawnya has become the go-to spokesperson and expert trainer/coach for Virtual Assistants wanting to share, learn more, and grow their businesses.
CLICK HERE
to check out all our FREE resources for VAs.


Latest posts by Tawnya Sutherland (see all)