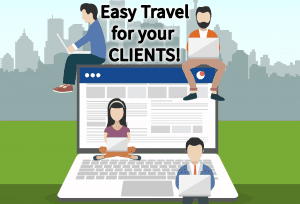 Travel planning always starts with a traveler profile. In order to create the perfect end-to-end itinerary, you have to know all of your traveler's details, preferences, and unique travel quirks. Many travelers are accustomed to stopping by their travel planner's desk and providing more details.
Virtual assistants, however, don't have this luxury. You are faced with the unique challenge of predicting your traveler's every need and desire without being able to directly communicate with your travelers. Luckily, there are a ton of great tools out there that can help you manage this and make both your life and your traveler's life easier!
---
Just a reminder before you dive into this awesome article to help you be more equipped when it comes to putting together a travel itinerary for your client…
DON'T FORGET to mark off your calendar for our FR-EE webinar with Susan Schofield on Easy Virtual Travel Planning with TRAVO! 

Only 100 seats available for this webinar training so get there early to grab a seat.

DATE: Thursday, January 11th, 2018
TIME: 3:00 PM Pacific Time / 6:00 PM Eastern Time
---
1.  Using Form Creation Tools
Form creation tools are a great place to start. They allow you to create a formalized questionnaire to gather the basic information required to book for your travelers without the hassle of printers or paper trails. There are a number of other tools, but we like to use one of the following: Google Forms, JotForm, or Type Form.
All three of these tools are perfect for virtual assistants. First, as we said before, they allow you to collect traveler information without any hard-copy forms. Travelers no longer need to print out a PDF form, scan it with responses, and send it back. Instead they can complete it on their computers or, better yet, on their mobiles phones. Second, they allow for a lot of flexibility and allow you to add and edit on the fly. In a virtual business, being flexible to meet changing needs and industries is imperative. Third, you are automatically notified any time your traveler completes the form. Last, but certainly not least, the information is automatically formatted to export as a CSV or an Excel file. Not only are you freed from dealing with hard-copy forms, but also you no longer need to manually transcribe their information. This saves you time and removes a lot of potential for human error.
When you're going through the process of creating your traveler profile forms, there are some basic fields for you to include.
General Traveler Information
Name (Exactly As It Appears on Government Issued ID)
Work Email Address
Phone Number
Date of Birth
Gender
Preferred Departure Address and Airport
Passport
Flight Preferences
Preferred Airlines
All Loyalty Numbers
Seat Preference: Window vs. Aisle
TSA Precheck Number
Class of Service.
Hotel Preferences
Preferred hotel chains
Loyalty Numbers with status level.
Minimum star rating
Preferred Amenities
Room type
Ground Preferences
Preferred Transportation Type: rental car, rideshare services like Uber and Lyft, Public Transportation, and car service.
Preferred Rental Company
Loyalty Numbers with status level.
Preferred Car Type.
2. Secure Data Storage
LastPass and OnePassword
After collecting your traveler's data, it's time to store it. Security is of the utmost importance for virtual assistants and having a secure location for sensitive information will put clients at ease. Some may be tempted to store traveler information in spreadsheets or in notebooks. However, these are rarely password protected and leave you at risk to crashes or stolen items. Sites like LastPass and OnePassword can help with this. While these sites are not specifically for travel, they provide you with secure account storage and automatic account generation.
You can even create custom templates that allows you to take your traveler's responses and fill in the blanks on your template. Create a template very similar to your traveler profile form so you can easily copy and paste directly from your traveler's responses.
Best of all, both LastPass and OnePassword also allow users to add credit cards and share them with others. This helps solve the classically messy process of getting your traveler's credit card. Rather than calling clients to ask them for credit card numbers or for a physical copy of the card, virtual assistants can now invite others to their account where clients can add credit card details. Clients can even set privacy settings on these cards allowing the VA to view the number or not.
TRAVO combines the convenience of tools like Google Forms with the security of LastPass to create a one-stop shop for virtual assistants. Every traveler profile on TRAVO works like a Google Form. Virtual assistants can create profiles and invite travelers with a click of a button. Travelers can fill out their profile and virtual assistants will automatically have access to begin planning on their behalf, without having to do any additional copy/paste work. Best of all, traveler preferences are automatically applied to search results so you no longer need to flip back and forth between tabs to check preferences. TRAVO profiles are https secure, PCI DSS compliant, and password protected so virtual assistants can create, plan, and book at ease. Sign up for your free TRAVO account to start creating profiles and planning your next trip! 
About the author:
Tae Lee is the CEO and founder of TRAVO, the only trip planning and booking tool built specifically for administrative professionals and virtual assistants. Prior to founding TRAVO, Tae served as executive vice president of Operations and Technology at the leading video advertising technology firm, ZEFR.
DON'T FORGET to mark off your calendar for our FR-EE webinar with Susan Schofield on Easy Virtual Travel Planning with TRAVO! 

Only 100 seats available for this webinar training so get there early to grab a seat.

DATE: Thursday, January 11th, 2018
TIME: 3:00 PM Pacific Time / 6:00 PM Eastern Time