WOOT WOOT! We are less than a month away now from Season 17 of #VAVS.
This is the be-all-end-all online Virtual Assistant conference that you won't want to miss!
AND it's only $37 to attend online. This is the 17th time I've hosted this online conference for Virtual Assistants. I am so excited for all our attendees to be able to offer this educational experience once again!
Learn all about my VA online conference here
Mark your calendars clear for November 5-9th as you will not want to miss the Virtual Assistant Virtuosos Seminars #VAVS industry online conference.
For those who have never heard of #VAVS…
#VAVS stands for the "Virtual Assistant Virtuoso Seminars" an online conference that VAs keep coming back to attend each and every season to help their business grow and make more money.
During this series of seminars held twice yearly, we present a speaker stage of 20 (YES you heard me right!) 20 engaging Virtual Assistants who currently run a successful VA business or have in the past. Virtual Assistants who have already gone through the bumps and grinds of getting their business going and have figured out what works and what doesn't in their business to share with their peers. Learn from other business-minded Virtual Assistants at this series.
OK now for a DRUM ROLL PLEASE!!!!!!!!

Introducing our Speaker Lineup & Topics…
DAY 1 – Monday, November 5th, 2018
Tawnya Sutherland – Getting Clients: Find, Fetch & Followup
Alicia Jay – Rock Your Content and Get Clients!
Kathy Colaiacovo (IVAA) – Why Professional Development is the Best Way to Boost your Bottom Line
Tammy Lorette – Take the Hustle Out of Finding Clients: Learn the Simpler Way to Find the Right Clients
DAY 2 – Tuesday, November 6th, 2018
Lyssah Fry – Surviving Your First Year: How to Make the Leap and Land on your Feet
Kimberly Sloan – From Launch to Fully Booked in 12 Weeks
Nicole Dean – How to Get High-Quality Clients (and Save Tons of Time) with Done-for-You Content
Cathy Baillargeon – The Tough Client Tango: Working with Difficult Clients
DAY 3 – Wednesday, November 7th, 2018
Terri Tutich – Getting Started with Email Marketing with MailChimp
Angela Wills – Grow Your List With Bundles
Kristin Molenaar – Work Less, Make More: How to Create REAL Freedom in Your VA Business
Anita Kilkenny – Bring Balance Back Into Your Virtual Assistant Business – 5 Tips to Keep You Grounded
DAY 4 – Thursday, November 8th, 2018
Alyssa Avant – How to Use LinkedIn to Grow Your Virtual Assistant Business
Reese Ben-Yaacov – How to Stop Charging Too Little and Start Getting Paid What You Deserve
Karon Thackston – How to Get a Steady Flow of Clients & Passive Income From Your Blog
Kathy Goughenour – How To Go From Low-Valued Admin to High-Valued Expert (and Make More Money)
DAY 5 – Friday, November 9th, 2018
Michela Luoni – What Is a Brand Identity and How to Build It Using Canva
Tracey D'Aviero – What Exactly Do You Do? Craft Your Anti-Elevator Pitch And Get More Clients!
Cindy Bidar – Your 6-Figure Follow-Up Plan – How to Fill Your Calendar With Clients and Projects You Love
Kathie Thomas – WordPress Workflows: How to Quickly Set Up Your Website
What an AWESOME group of VAvirtuoso speakers to teach you how to make you more money in your VA business!
THESE ARE VA BUSINESS TOPICS YOU WON'T WANT TO MISS!
Learn from those who have been there and are doing it successfully right now >>> VIRTUAL ASSISTANTS!
What Makes Our Event Stand Out?
No travel expenses involved! These are seminars that you can enjoy from the comfort of your home office via our online webinar platform. All you need is a computer with speakers (or a headset) to listen with, an internet connection and YOU!
It's an interactive learning experience!
The networking is unbelievable! We even leave the webinar room open in between speaker presentations so you can engage with your peers and the speakers!
It's affordable! ANY Virtual Assistant at ANY stage in his or her business career can attend, accessing cutting-edge information about getting ahead in an increasingly competitive virtual service business environment. Besides, where else can you watch 20 LIVE one-hour training webinars to teach you how to find and retain clients by expert keynote speakers FOR ONLY $37?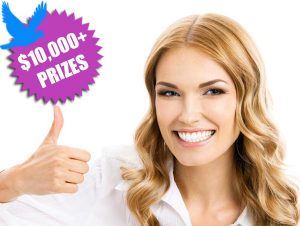 LEARN MORE & GET YOUR #VAVS TICKET HERE
Not to mention over $10,000 in cool prizes (and still adding) that you can WIN!
Check them out here & even GRAB A FREE DRAW TICKET too! 😉
Why Should You Attend?
You'll learn new business strategies together in a group environment online and share tips with each other on how to succeed in working virtually.
You'll receive brilliant ideas of how to get NEW clients and how to keep your current ones happy from those attendees who have been that and know how to do it.
You'll stay-on-top of what is new and buzzing in the VA industry from new software to strategic marketing ideas for our service businesses.
You'll get to network with industry leaders and your business colleagues
Not to mention all the cool prizes you can WIN! (Check them out here)
Tickets starting at $37 to attend the event LIVE
I'm looking forward to networking with you at our #VAVS, our VA online conference!
I will be doing some Facebook LIVES before our event talking with some of our VA virtuoso speakers. (Like our page here to be notified through FB). I wanted to share these dates with you so you could mark your calendar as they are approaching fast! Like this week!
I'll be talking to:
Lyssah Fry – Tuesday, Oct. 9 at 11:30 am PT – Watch replay here
Terri Tutich – Thursday, Oct. 11 at 11 am PT – Watch replay here
Kathy Goughenour – Friday, Oct. 12 at 12:30 PT
Cindy Bidar – Tuesday, Oct. 16 at 11 am PT
Kathie Thomas – Wednesday, Oct. 17 at 1:45 pm PT
Reese Ben-Yaacov – Wednesday, Oct. 24 at 11 am PT
Alicia Jay – Thursday. Oct. 25 at 11 am PT
Kathy Colaiacovo – Friday, Oct. 26 at 11 am PT
Kristin Molenaar – Monday, Oct. 29 at 11 am PT
Cathy Baillargeon – Monday, Oct. 29 at 2 pm PT
Angela Wills – Tuesday, Oct. 30 at 11am PT
Tammy Lorette – Wednesday, Oct. 31, 1 pm PT
Alyssa Avant – Thursday, Nov. 1, 11 am PT
Tracey D'Aviero – Friday, Nov. 2, 12 pm PT
Here's the FB LIVE page with all our Facebook LIVE dates on it to add to your Google Calendar. So far I've got 14 interviews lined up with some interesting speakers that will be teaching us at #VAVS.
See you then!