VAinsiders have FREE access to 170+ eBooks for Virtual Assistant within their paid membership. Become a VAinsider today!
Kick Start Your VA Business eBook – FREE
Want to get your business moving forward but don't know where to start?
Let VAnetworking.com help you kick start your business STARTING THIS VERY MINUTE!
This ebook will introduce you to the business resources available to Virtual Assistants right now at our social network for Virtual Assistants. Because this is where it all happens. Right here at VAnetworking.com, the warmest place on the web. (Some would say we're the hottest place for VAs to network online, but then we'd have to change all our graphics and downloads and well, we're too busy!)
AND it's FREE to download so download it now. We've got tons of resources available to rock out your Virtual Assistant business inside and we promise, you're in for one fantabulous ride!
---
How to Build a Successful Virtual Assistant Business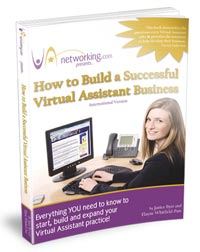 Written by Janice Byer and Elayne Whitfield-Parr, this NEW softcover book, How To Build a Successful Virtual Assistant Business – International Version, includes information and tips to help aspiring and established VAs throughout the world with every aspect of starting and building a Virtual Assistant business.
From naming your business, to upgrading your skills, to expanding your business, we have put together everything you need to know based on our combined years in this industry and the input of successful VAs worldwide.
And this isn't just any how-to VA book…
Page after page you'll feel as if you have your own personal "VA Coach" guiding you every step of the way toward making your dream of becoming a Virtual Assistant a reality. All in an easy to read format. How to Build a Successful Virtual Assistant Business is the business bible that you'll reach for over and over again as you build, market and operate your VA practice like a pro.
---