FREE Virtual Assistant Training Business Webinars
Our Next FREE VA Training Webinar:
DATE: Thursday, June 28th, 2018
TIME: 1:00 PM Pacific Time / 4:00 PM Eastern Time
CLICK HERE to convert to your timezone
Join us at our network for FREE training webinars to educate Virtual Assistants worldwide!
Topic: 5 Simple But Powerful List-Building Improvements You Can Make for Yourself AND Your Clients That Will Add $$$ to Your Business For Years to Come
Here's what I'm going to share on this LIVE training event:
1. How to create a winning opt-in incentive in minutes that your audience will be eager to download, without writing a word of content.
2. How to stop wasting precious time chasing leads on social media, and get other people to grow your list instead.
3. How to track down and eliminate the distractions that are killing your conversion rates for an instant list-growth improvement.
4. The easy 5-step process you can use to ensure you always choose the right tool for list-building and funnels. Get this right and you'll save weeks or even months of frustration and struggles.
5. The advanced strategy you can steal from top online business owners that will instantly improve your list-building results (when you see how easy this is, you'll kick yourself for not doing it sooner!)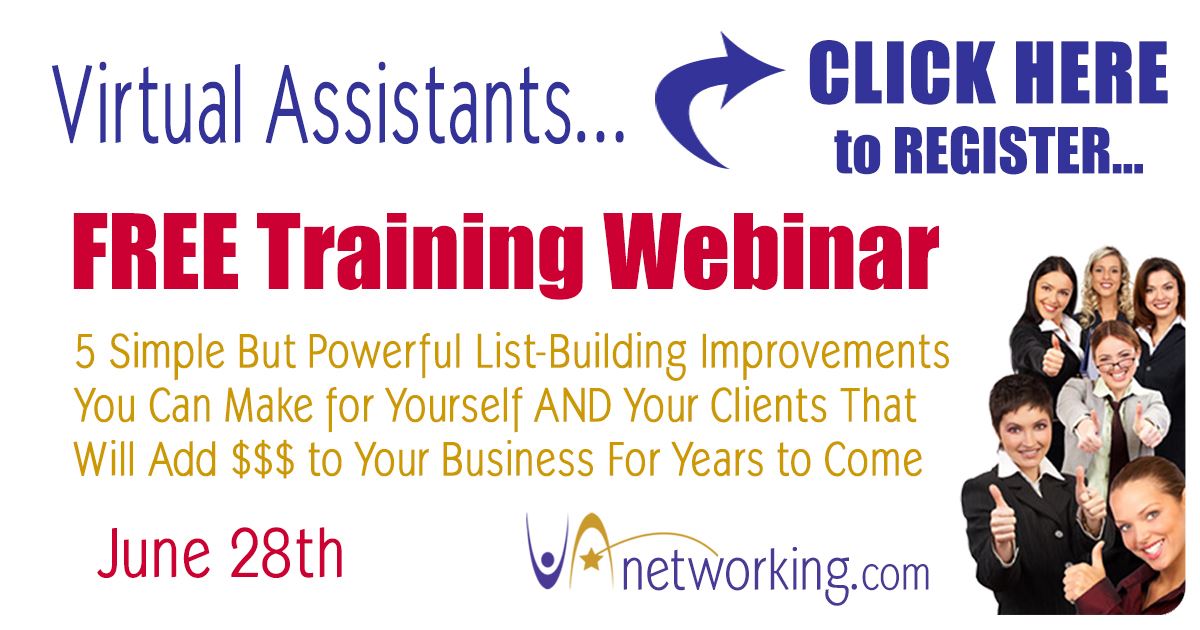 Upcoming VA Training Webinars
---
Webinar Room Troubleshooting
Please be aware that it is very difficult to troubleshoot your problems during the webinars and most likely you'll be out of luck for help until the after the seminar is over. Therefore we highly recommend you arrive early to check your settings.. We can help attendees on a first come first serve basis up until 15 minutes before the webinar begins.
We use Adobe Connect webinar platform and if you find you are having technical difficulties in the webinar room click HELP tab on the upper right for resources to help you out
Please be respectful of the speaker and not type too much in the chat window during the webinar as the scrolling text can be a distraction.

There are two ways to communicate in this webinar room. First way is just to text type your message across to us in the General Chat Area. Second option is to click on the microphone at the top of your screen so it turns green, then you can speak. You can also mute it by clicking it again. Often times during training webinars we mute attendees to avoid background noise.
For sound and audio problems, run the Audio Setup Wizard under the Meeting tab in the webinar room.
Make sure your speakers are turned on. Sounds lame but 95% of the problems stem from the user's own computer settings.
Clear your browser's cache > Instructions here
Try a reboot too…for some reason that sometimes magically fixes everything ?
There will be a Q & A period after each webinar. Please hold onto your questions until the end and type them into the "Ask a Speaker Question" box if available.
While you are waiting for the webinar to begin, feel free to network and chat and get to know the others in the room by text chatting in "General Chat Area". Follow each other on Twitter, share urls, etc.
Feel free to follow us on Twitter and tweet out to your peeps any highlights of the webinar quoting the speaker if you like. Follow Tawnya @VAnetworking
Here's a video tutorial for our future speakers:
Enjoy the webinars! Tawnya Sutherland
PS: Still having trouble? If all else fails please put a ticket into our HELP DESK and we will answer within 24 hours.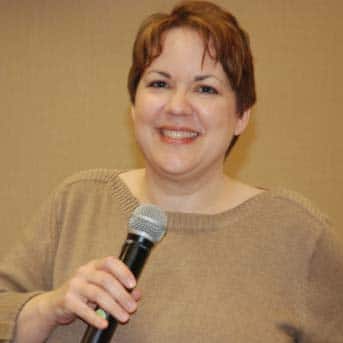 Host…
Cindy Bidar is a highly sought after online business manager specializing in marketing and systems automation for coaches, digital course sellers and freelancers. She's had the privilege of working with some of today's most profitable online businesses as a marketing and operations manager. She's helped train 7-figure marketing teams, and overseen the set up and management of hundreds of marketing and sales funnels. She helps her clients scale their business by creating automated systems that improve conversion rates, increase sales, and add more profit to the bottom line. Visit her website here.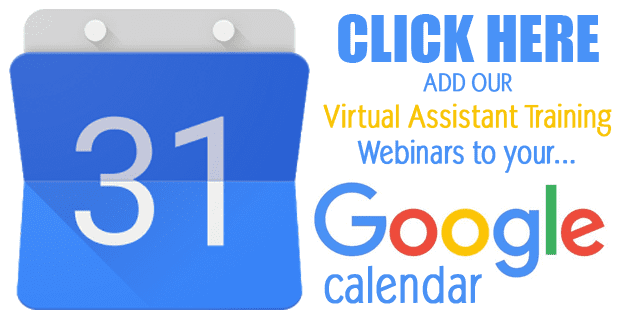 Want to Speak to Our Network?