NEED PROOF?  Does a Virtual Assistant career actually pay off?
READ all the success stories, raves and social luv from those who have invested in our VA training products …
The

Virtual Assistant Career Success program

is truly the roadmap that got my business up and running. It's the secret reason behind the success I've had.
Kathyhttps://VirtualAssistantCareer.comt Colaiacovo > 6+ figure business owner of Pepper It Marketing
COACHING you can rely on and trust.
I've implemented Tawnya's advice, increasing authority, gaining clients, and establishing business clarity along the way.
~ Mark Hunter ~
COMMUNITY of like-minded peers and friends.
The support of Tawnya and all the others is so important. As the saying goes, no question is stupid. Everyone helps each other with support and friendship – like one big family.
~ Heather Chernofsky ~
CLIENTS in abundance waiting to hire you.
I got my very first client from the Job Board, and I couldn't be happier. Thank you for giving us VA's a place to go for incredible opportunities.
~ Andrea Jones ~
Jocelyn Reyes – Your Fab VA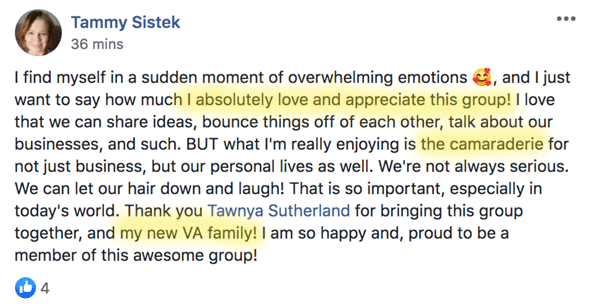 ~ Kristin Lobdell ~
I recently joined VA Insiders and I found the group to be extremely welcoming and supportive right from the start.
I gained valuable tools and insights right away that I will be able to implement in my business.
Everyone here is so kind, professional and genuinely care about helping you succeed.
As a solopreneur I needed a community of like-minded professionals that understand the specific needs of a VA that I could meet with regularly for support. I am so happy to say I've found it!
I would even go so far as to say that the membership has paid for itself in only one meeting!
I'm now feeling more hopeful and confident that I have the resources I need to ensure my success. Thank you Tawnya and friends, I am so excited to continue this journey with you all!
Tawnya's Virtual Assistant Career training course will lead you through every aspect of what you need to do to get started and be successful… and I have a great client roster. I couldn't have done it without this program.
Kate Sullivan – Virtually Connected Solutions

Lourdes McCombs ~ I wanted to let you know that I got a NEW CLIENT by responding to one of the RFPs posted on the Job Board.
The fee for the project that I charged my NEW client needed covered the cost of my membership here.
Chinenye Erikowa ~
As a newbie in VA, the resources available on the VAinsiders club, has made me
understand clearly
what being a Virtual Assistant entails.
Being part of the group coaching has CONNECTED ME to like-minded people who are willing to support and ensure I am successful in my  VA journey.
Gina Koran ~ Before I invested in VAinsiders.com, I was feeling lost on where to begin in my VA journey.
With Tawnya, I found a COACH WHO ACTUALLY CARES about my progress, helps me through the stumbling blocks AND celebrates the victories with me.
RAVES from our VAinsider Members
If you are like many other VIRTUAL ASSISTANTS you struggle to get consistent CLIENTS to make money . . . and YOU keep running into roadblock after roadblock! Well, a lot of people in your shoes JOIN the VAinsiders Club. Since 2007 the VAinsiders has been the go-to membership for thousands to find the COACHING plus COMMUNITY they need to help them find MORE CLIENTS.
My coaching sessions with Tawnya Sutherland were even better than I'd hoped. She tailored our coaching sessions to what I wanted and needed. Tawnya patiently worked with me on my website and editing service packages and helped me narrow my focus. After meeting with Tawnya, I felt motiVAted(!) and ready to take on the next steps for my VA business.  THANK YOU, Tawnya!! What a blessing you are to the virtual assistant community!
~ Irene Chambers
Tawnya is an amazing coach! I've had the pleasure to work with her one-on-one as one of her coaching clients. She helped me streamline my website, find my focus for a specific niche and create my very first product – a video course. Tawnya is very professional to work with and she always knows the best ways and resources to help her clients. She is an expert in the field of Virtual Assistance and Internet Marketing. I highly recommend Tawnya to any Virtual Assistant looking to take her business to the next level.
~ Sarah Santacroce
It was beneficial to me, and it will be for you to latch on to getting Tawnya as a coach regularly to gain helpful insight into establishing or growing a business. When I initially started my virtual assistance business, I knew my talents covered various areas, which made it harder to figure out what I wanted my niche to be. During our coaching sessions, she offered ideas from observing my talents and made suggestions on how to go about in honing in on a niche. I felt she provided me with a clearer path on how to move forward. Also, she has been very supportive of my endeavor. I didn't feel alone in my quest. She was easy to speak with and easily accessible.
~ Angela Atanasio
100's of CHEERS from our VA Summit Attendees
The "Virtual Assistant Virtuosos Summit" is an online conference that freelancers keep coming back to attend each season to help grow their business in the right direction by teaching them ways to FIND and RETAIN clients.