Free VA Training …
Scale Your VA Business With Info Products
Getting paid for your services is not the only way you can make money in your virtual assistant business. There are other, less stressful, money-making strategies that you can also implement to help you supplement your income during downtimes with clients. Lucky for us my friend Alice Seba, a spectacular content provider, lives just around the corner from me, and guess what? Alice will be popping over to my office to join me live on Thursday and introduce to you "Info Products" an easy low to no-cost way to start earning from your knowledge and to create an information product.
This training has ended, register below to notified of our next one:
VA Level: Advanced
Date: Thursday, November 18th, 2021
Time: 3 PM Pacific Time / 6 PM Eastern Time
Presented By: Alice Seba & Tawnya Sutherland
Attend and learn all about "Info Products" and how to:
What is an information product and why would I want to create one?
What are some unique product ideas for service-based business owners?
Quickly learn the skills to grow a loyal and engaged audience who loves buying your products over and over again.
Position yourself in your market, so you can earn more for each sale…even if you're selling low-cost products like printables, print-on-demand products, ebooks, and other digital products.
Find fill-in-the-blanks templates and checklists to make it easy to implement what you learn and FAST.
When your customers trust and think of you first when they need help, you hold the keys to a wildly successful business…and Alice will show you how during this informative live learning with Q and A session.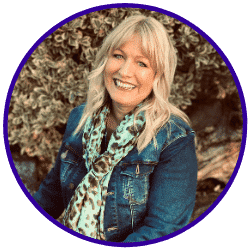 Spots Are Limited! Starts In…
Special Guest: Alice Seba
Alice Seba has been a quality ready-to-publish content provider since 2006 and specializes in practical, high-value content with private label rights, and is always staying up to date with content marketing trends. Her mission is to create valuable content for you that will grow your reputation, build your list and boost your bottom line.
Hosted by Tawnya Sutherland
Tawnya Sutherland is a six-figure virtual assistant, creator of the Virtual Assistant Career Success (VACS) Program, and founder of VAnetworking.com. Since 2003, Tawnya has taught thousands of people worldwide to start their own virtual assistance businesses—nobody's been doing this longer. Tawnya has been featured across many popular media outlets, including Dr. Phil, Reader's Digest, Chatelaine, Entrepreneur and Redbook. When Tawnya's not helping a Virtual Assistant scale their business you'll find her in beautiful British Columbia riding her motorcycle through the curvy mountain roads stopping only to rockhound for sparkly agates along some hidden creek bed.