VAnetworking.com is regularly profiled in national magazines, books, newspapers, television shows and radio stations worldwide.  Click on the links below to read full stories.
More VAnetworking in the News:
June, 2009
VAnetworking Shares Tips for Communicating Effectively by Partnering with a Virtual Assistant – June is Effective Communication month and the Virtual Assistants at VAnetworking.com, the world's largest social networking community for Virtual Assistants and virtual entrepreneurs are sharing their tips for using a Virtual Assistant to communicate effectively in your business.
April, 2009
New Certification Program Breaks Ground for Virtual Assistants Globally. Tawnya Sutherland, founder of the world's largest global network for Virtual Assistants, has brought together industry leaders from the four corners of the world to create a one of a kind certification program for Virtual Assistants.

February, 2009
VAnetworking.com Announces Growth in the Virtual Assistant Industry as new President Comes on Board
December, 2008
Featured on MSN Money website in their America's home businesses slideshow
December, 2008
Featured on The Wall Street Journal Independent Street Blog as a Top Home Business
November, 2008
The Resource for Entrepreneurs Looking to Partner with a Virtual Assistant
October, 2008
Virtual Assistants Ignore Recession and Pay for Access to the Fast Track
July 10, 2008
Virtual Assistants Building Confidence to Make Their Business a Successful Reality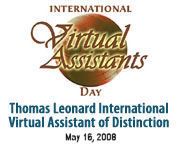 May 16, 2008
Founder of VAnetworking.com, Tawnya Sutherland receives OIVAC's 2008 Thomas Leonard International Virtual Assistant of Distinction Award.
Click to read Read Press Release
January 11, 2008
Globe and Mail Newspaper – No Promotion? Feel Like Quitting? or view article PDF in Globe and Mail
December 1, 2007
World's Largest Virtual Assistance Organization Celebrates Holidays With 2nd Annual Advent Calendar Contest
November 19, 2007
The Virtual Assistant Millionaire: Craze or Godsend for Working Moms?
October 7, 2007
The Business Journal Features Tawnya Sutherland – A Virtual Necessity – Using a VA helps control startup-costs
October, 2007
What Would the Business World be Without Our Virtual Assistant Keeners?!!
October, 2007
ImInTouch Strategically Aligns with Virtual Assistants Globally
September 14, 2007
VANetworking.com Announces a New Back-to-school Scholarship for New, Part-time, or Full-time Virtual Assistants.
August 8, 2007
Virtual Assistants – The Who, What, When, Where, Why and How's
July 17, 2007
VAnetworking Announces NEW Premier Partner – Dr. Taffy Wagner
July 3, 2007
VAnetworking Announces NEW Premier Partner – Christian Work At Home Moms
June 26, 2007
VAnetworking Announces NEW Premier Partner – Virtual Assistance U
May 18 , 2007
Virtual Assistants Are Making Their Mark in Corporate America on VA Day
April 20 , 2007
Reader's Digest, May 2007, Page 167), suggests the Virtual Assistant Networking Forum as a good place to gather how-to information from experienced assistants.
April 18, 2007
VAnetworking Announces the NEW VA Talk Show Podcast – Where VAs Talk The Walk!
April 17, 2007
VAnetworking Announces NEW Premier Partner – A Clayton's Scretary
April 17, 2007
VAnetworking Announces NEW Premier Partner – 1st Podcast Publishing
February 22, 2007
Virtual Assistant Networking Association announces new Premier Partner Michelle Jamieson
February 1, 2007
Virtual Assistant Networking Association announces the Extreme VA Makeover Contest
December 1, 2006
Virtual Assistant Networking Association Celebrates 10,000+ Members With Contests And Daily Giveaways
November 1, 2006
StartupNation Community podcast series presents: Virtual Assistants are REAL
October 2006
Globe and Mail – The Virtual Reality of Getting Good Help
September 27, 2006
Over 10,000+ Virtual Business Owners Find Exclusive Discounts at Virtual Assistant Networking Association
September 12, 2006
Online Forum Mentors Women to Earn Six Figures From Home
September 7, 2006
VAnetworking.com Announces VA Article Directory To Help Raise Awareness Of The Virtual Assistant Industry
August 9, 2006
Virtual Assistant Networking Association Announces Premier Partner Program
July, 2006 – Featured at Startupnation.com
Time to Quit Your Day Job ~ The Story of Tawnya Sutherland
May 4, 2006
Local Virtual Assistant Celebrates Inaugural International Virtual Assistants Day: May 19, 2006
May 1, 2006
Virtual Assistant Networking Association celebrates 2000+ members with contests and daily giveaways throughout May
November 15, 2005
VMH VideoMovieHouse.com and Mediamage.com Form Strategic Alliance to Market VideoMovieHouse.com's Online DVD Rental Site and Affiliated Movie Distribution Sites
October 19, 2005
Dr. Phil's Show Calls and Wants You ASAP But You're Not Ready — Never Fear — Professional Virtual Assistants Can Make Your Spotlight a Success
June 20, 2005
Virtual Forum Offers Start-Up Advice for Business Success
December, 2003
Virtual Assistant, in Cobourg Daily Star
October, 2003
Virtual Assistant, in the Tri-City Newspaper Oct. 2003…read more