How to Find and Hire a Virtual Assistant (VA)
Submit a Request For Proposal (RFP) to Hire a VA…
Let us help you find a virtual assistant. Fill out the form below and we will post your request for proposal on our Virtual Assistant job board of VAinsiders. Serious inquiries only.
Find Your Business the Ultimate Virtual Assistant!
Fill out our handy form below to post your job
Items marked with * are required.
*We are a job board that has been setup as an act of courtesy by VAnetworking.com to give business owners a resource to search for virtual assistance help. By submitting or responding to an RFP via VAnetworking.com, you understand that you assume full responsibility. You agree to indemnify, defend and hold harmless VAnetworking.com, its officers, directors, employees, agents, licensors, suppliers and any third party information providers to the service from and against all losses, expenses, damages and costs, including reasonable attorneys' fees, resulting from any violation of this Agreement (including negligent or wrongful conduct) by you or any other person accessing the Service. In no event will VAnetworking.com be liable for any incidental, consequential, or indirect damages (including, but not limited to, damages for loss of profits, business interruption, loss of programs or information, and the like) arising out of the use of or inability to use the service, or any information, or transactions provided by this service. By entering into a business agreement, you understand that this relationship is only between the individual submitting the RFP and the individual they hire. You assume total responsibility and risk for your use of this site and the Internet. It is solely your responsibility to evaluate the accuracy, completeness and usefulness of of all opinions, advice, services, merchandise and other information provided through this service or on the Internet generally.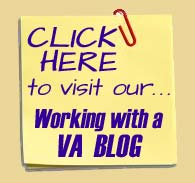 NEED office help?
WANT to be
more organized?
FREE time seems
like a far off dream?
YES ???
Then you need a
Virtual Assistant!