Any business can utilize the help of a Virtual Assistant (VA). If you have administrative, creative and/or technical tasks you don't want to do yourself then this is where a VA can step in and help you out. That way you can focus on doing the tasks that make you more money not to mention you love doing!
WANT to Hire a Virtual Assistant? CLICK HERE
The following list shows over 200 ways you can utilize the services of a Virtual Assistant which may or may not apply to your business, but may spark some new ideas regarding what a VA can do for your business.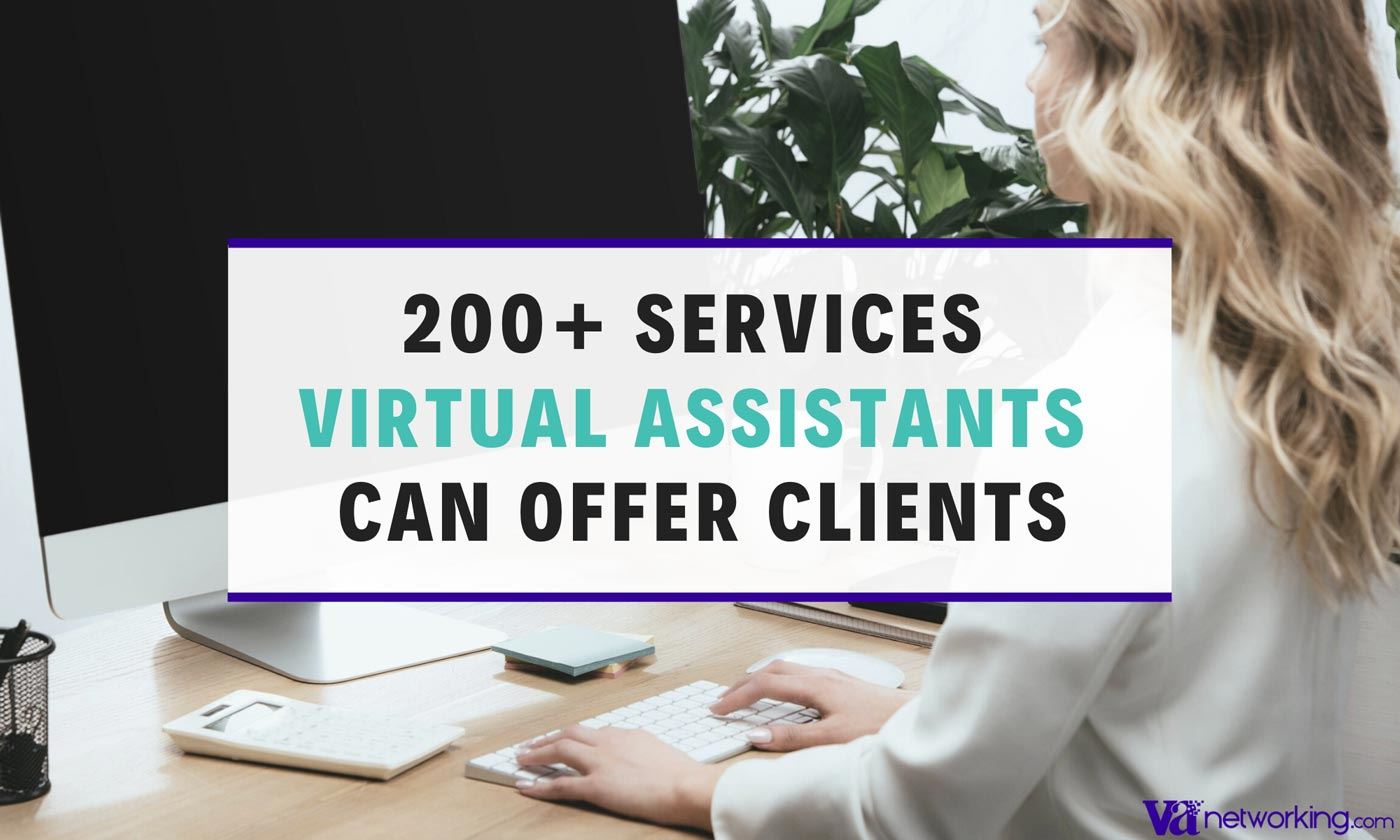 200+ Services Virtual Assistants Can Offer
Accounts Payable
Accounts Receivable
ActiveCampaign Expert
Add Appropriate Links to Blog Posts
Add Content to Newsletters
Advertisement Submission
Affiliate Management
Affiliate Setup
Amazon Seller Assistance
Amember Management or Setup
Analyze Financial Situation
Answering Customer Service Emails
Answering Service
Appointment Management
Assign Tasks to Others
Audio Editor
Author Profile Creation
Aweber Expert
Backup Websites
Blog Marketing
Bookkeeping
Build a Knowledge Base
Calendar Management
Canva Image Creator
Checking Sources
Coding
Collect Testimonials
Communication
Community Managing
Competition Research
Compile Technical Information
Compiling Audience Questions
Conduct Split Testing
Constant Contact Expert
Content Calendar Creation
Content Formatting
Content Marketing
Content Monitoring
Content Planning
Content Post Scheduling
Content Marketing
Content Writing
Contract Prep
CovertKit Expert
Cover Design
Create & Organize Pinterest Boards
Create a Banner
Create a Mobile App
Create a Newsletter Template
Create a Product Funnel
Create a Sales Funnel
Create a YouTube Account
Create & Monitor Online Disclaimer
Create and Organize Spreadsheets
Create Articles from Audio
Create Buttons
Create eCovers
Create Forms
Create Forum Content
Create Memes for Facebook
Create Memes for Pinterest
Create Online Contests
Create Online Surveys
Create PDF Files
Create Redirects for Products
Create Reports on Facebook Insights
Create User Guides
Create Whitepapers
Creating Landing Pages
Curating Relevant Online Content
Curating Special Reports Content
Disaster Recovery Planning
Distribute Press Releases
Do Voiceovers
Edit Audio Files
Edit & Maintain Follow up Emails
Edit Private Label Rights Articles
Edit Whitepapers
Email Customer Service
Email Marketing
Enforce Intellectual Property Rights
Entering Logs
Facebook Advertising
Facebook Expert
Facebook Group Management
File Management
Filtering Email Messages for Spam
Financial Data Organization
Find People to Review your eBook
Find Products to Sell (affiliates)
Format EBooks
Format eReports
Generate Ideas for New Products
Generate Ideas for New Services
Google Analytics Expert
Google Webmaster Expert
Graphic Design
Guest Blogging Assistant
Help Desk Support Technician
HubSpot Expert
Human Resources
Identify Probs Your Audience Has
Infusionsoft Setup
Instagram Marketing
Interview Potential Virtual Assistants
Invoicing and Billing
iTunes Formatting & Uploading
Joint Venture Management
Keap (Infusionsoft) Expert
Keep Freshbooks Organized
Keyword Title Creation
Kindle Book Formatting
Layout eBooks
Lead Generation
Link Building
LinkedIn Expert
LinkedIn Group Management
List Building
Load Messages into Autoresponders
Logo Design
Mailchimp Expert
Manage Amazon.com Listings
Manage eBay Listings
Manage Etsy.com Listings
Manage Online Contests
Manage Records
Manage your Blog Talk Radio Show
Manage Your Team
Manage YouTube Account
Managing Spreadsheets
Manufacturing
Marketing & Sales
Marketing Funnel Set Up
Meeting Scheduling
Monitor Customer Satisfaction
Monitor Legal Issues in Your Niche
Monitor Online Buzz
Monitor Online Forum Discussions
Monitor Online Real-estate for Errors
Multi-lingual Interpretation & Support
Newsletter Management
Online Business Management
Online Reputation Management
Online Webinar Assistant
OntraPort Expert
Order Fulfillment
Organize a Facebook Contest
Organize a New eMail Series
Organize Basecamp
Organize Files in Dropbox
Organize Hosting & Domains
Organize Web Content
Payroll Services
Perform Data Entry
Pinterest Management
Place Advertisements
Posting to Facebook
Posting to Twitter
PowerPoint Presentations
Prepare Meeting Minutes
Prepare Taxes
Press Release Distribution
Process Refunds
Product Creation & Development
Product Launch Support
Project Administration
Project Facilitation
Proof Read Everything
Provide Creative Support
Relationship Management
Reminding You of Things
Remove Background Noise in Audio
Remove Subscribers from List
Repurpose Content
Research Keywords
Research Potential JV Partnerships
Resource Location
Sales Funnels
Sales Page Creation
Sales Tax Filing
Schedule Events
Search Engine Optimization
Set up Podcast on iTunes
Set up Podcast on Website
Shopping Cart Expert
Shopping Cart Management
Social Media Marketing
Speeches
Tag Images
Take Pics to Use as Stock Photos
Task Management
Technical Support
Teleseminar Assistance
Test Software
Ticket Support Specialist
Track Hashtag Mentions
Transcribing Audio
Translation
Travel Accommodations
Twitter Specialist
Update Business Plan
Update Plugins
Update Products
Update Technical Information
Update WordPress Themes
Update Your FAQ
Upload Slideshare Shows
Upload Videos
Uploading a Mobile App for Sale
Venue Sourcing
Video Editor
Video Marketing
Web Marketing
Web Research
Webinar Moderating / Management
Website Maintenance
Word Documentation
WordPress Management
Write Articles for Medium.com
Write Articles for LinkedIn
Write Blog Posts
Write Content
Write Guest Blog Posts
Write Job Descriptions
Write Press Releases
YouTube Management
Zoom Setup and Moderation