We all enjoy the Clement Clark Moore version of "˜Twas the Night Before Christmas". I thought it would be fun to take a look at the "Week After Christmas from a Virtual Assistant's point of view".
PLEASE SHARE with your VA friends and Clients. I hope you enjoy this interesting twist written by one of our VAinsider members a few years ago…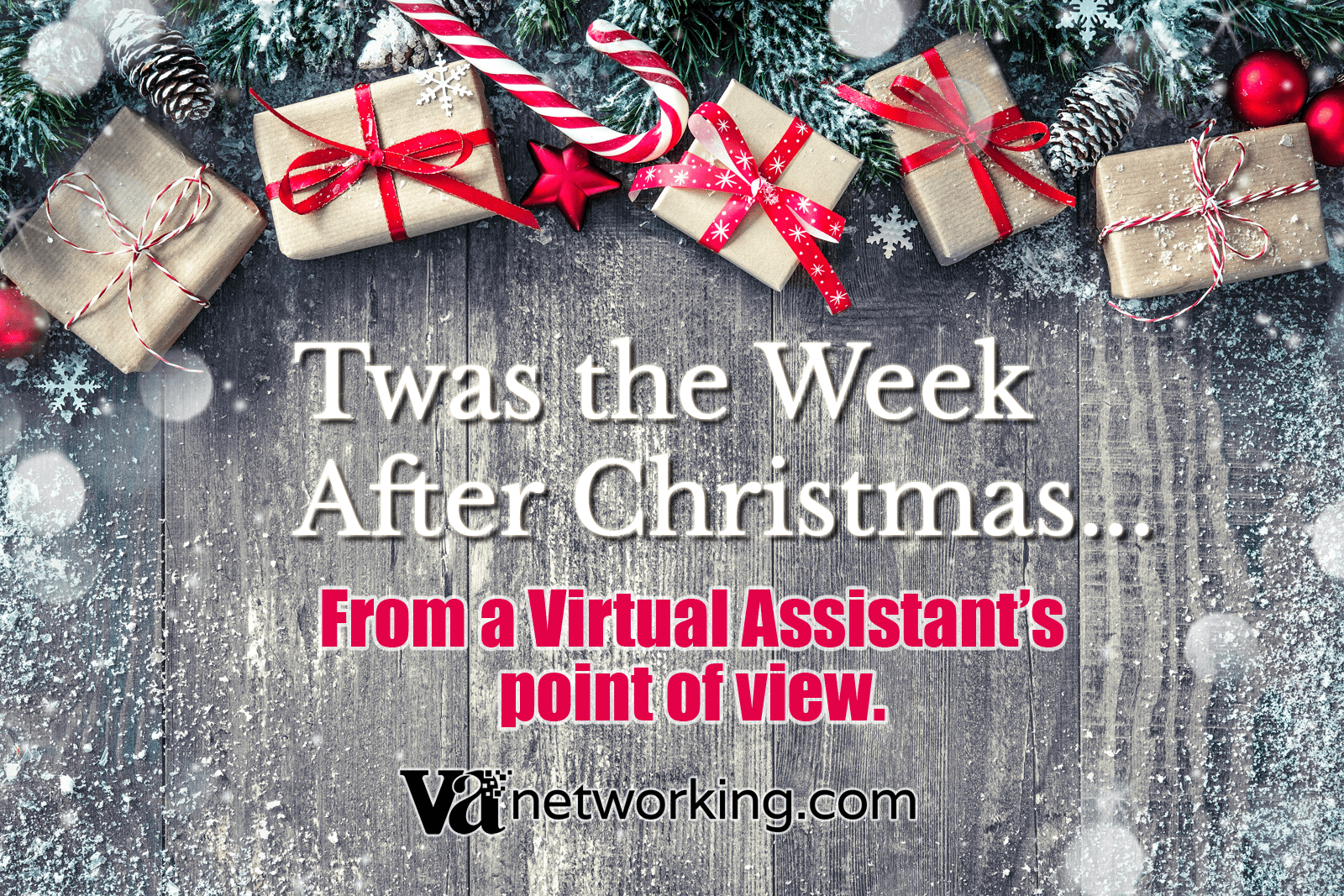 ˜Twas the week after Christmas, when all through my office, No printers were humming, no emails were coming;
The file folders were hung in the cabinet with care, In hopes that client work would soon be there;
The client files were nestled all snug in their bins, Then visions of retainer clients, spreadsheets, and to-do lists danced in;
With a cup of hot cocoa and holiday cookies near, I had just settled down to the computer and what did I hear?
"You've got mail!" was the chatter, I sprang in my chair to see what was the matter.
Away to my Inbox I flew like a flash, Tore into my emails and read each in a dash.
The nod of my head showed I was in the know, My clients needed assistance, I had to go.
When what to my wondering eyes should appear, But a 6-month retainer – and I wanted to cheer!
With a sigh and a giggle, my heels they did click, I knew in a moment that the VAinsiders Job Board did the trick!
Start the New Year off right with a NEW Client: Lots of new jobs at our busy VAinsider Job Board. Try us out today and get your first month (and hopefully a new client) for only for $7 by using coupon code TRYFOR7  
More rapid than eagles my thoughts they did race – No, I must slow down, for things like this I should pace,
Now contracts, and policies, and guidelines to find; For sending off to a new client to sign.
Where's the brochures, the press releases, and packets for all; What's that I hear? It must be a call.
As the papers flutter back to the top of my desk, It's a pencil I grab to jot down the request.
"Yes, I can do that! You've got the right VA!" What else could I possibly say?
And, then in a twinkling, I heard in the other room – The super-sonic sound only a kid-made "ka-boom!"
As I drew my hand up, and was turning around, Into the room came my child with a bound.
He was dressed in spaghetti from this head to his toe, All I wanted to do was just say "No!"
And his clothes were all covered with red tomato sauce, Into the laundry these I would need to toss.
Now all clean and tidy and down for his nap, It was back to my desk with the click of a pencil I did tap,
I remember now that feeling I had, It was excitement and joy – no feelings of sad.
Getting down to work is what I must do; Preparing reports, checking facts, should that really be a two?
A VA's work is never done – For when you think you've finished, you've only just begun.
And I laughed when I caught a reflection of myself; For traces of red sauce were on the tip of my nose, where else.
With a wink of my cat's eye and a nod of his head, Soon gave me to know I had nothing to dread;
I spoke not a word, but went straight back to work; And filled every client request, then turned with a jerk,
And standing in the doorway near – Was my dear husband with a take-out bag – I gave a cheer!
He sprang to my dinner rescue and lended a hand. He knew that warm-ups again would have tasted bland.
Then I heard him exclaim as he headed to the kitchen out of sight, "Congrats on the new client and let's celebrate tonight!"
Holiday wishes to all of my fellow Virtual Assistants!
---
BIG thanks to Jaime Lee Mann (former Virtual Assistant) for writing this piece for our network a few years ago. Jaime is now an established author having written many magical fiction books plus co-owns a writing and editing business. Learn more about Jaime here.