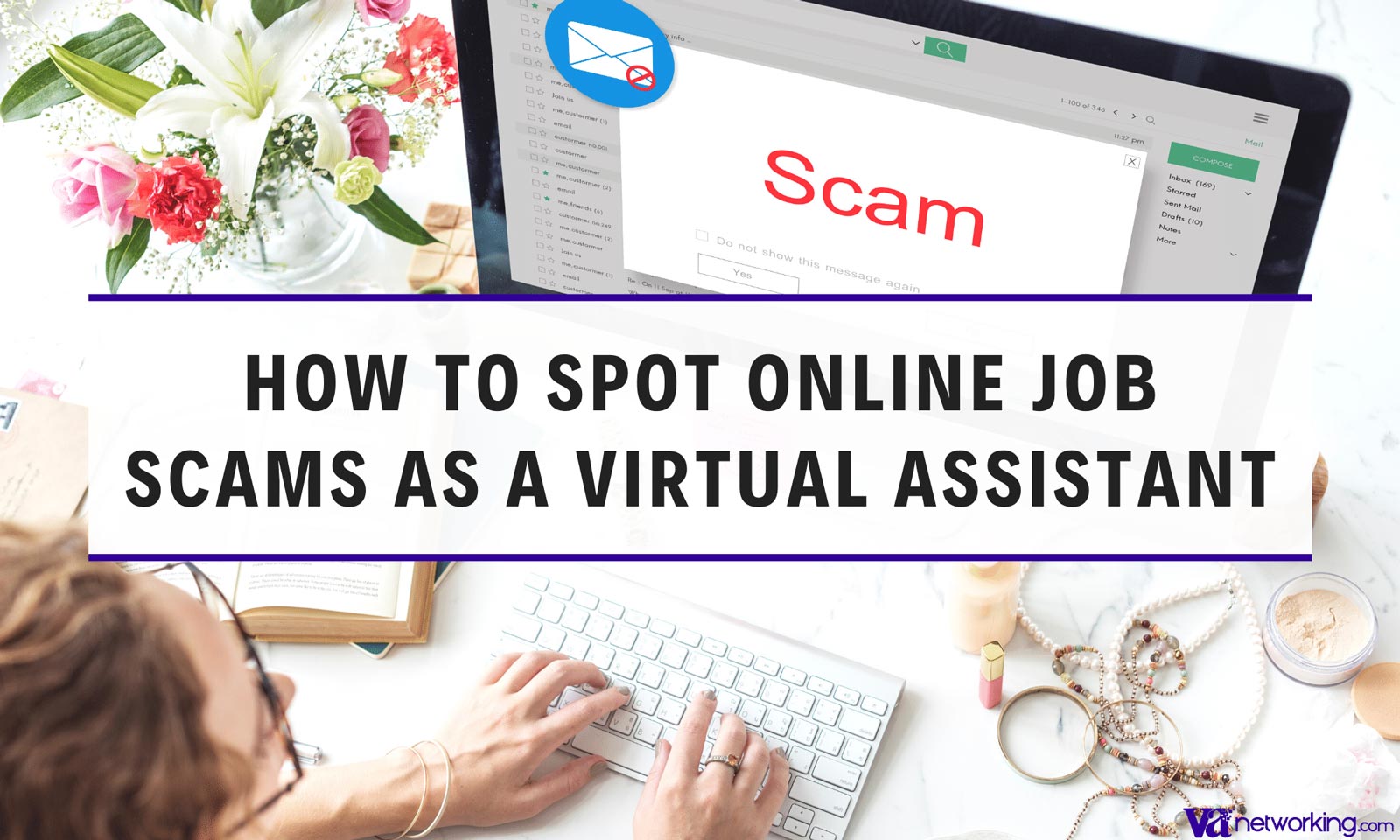 If you are a Virtual Assistant who WANTS MORE CLIENTS but doesn't like having to implement a marketing plan to get a new client then this blog post is for you.
One of the easiest ways for Virtual Assistants to land a new client is through the various job boards you'll find online where it's easy to search for work from the comfort of your home. This means you don't have to spend hours learning how to market your business.
There are thousands of different job boards out there today like freelancing websites, Facebook groups, LinkedIn job searches, Indeed, Craigslist or networking organizations.
You could even choose to pay to have access to high-quality Virtual Assistant jobs at our private membership specifically for VAs and get the jobs presented to you on a silver platter. 😉
WHEREVER you choose to look for work as a Virtual Assistant you need to be aware of online job scams and how to spot them.
According to Flexjobs recent annual survey it found that more than 80% of job seekers report being on guard or very concerned about scams on other job boards. According to the same survey, almost 20% of job seekers have been a victim of a job scam (up from 13% in 2016), with 22% of job seekers knowing somebody who has been victim of a job scam.
So, what's that saying? It's saying that like 3% of all work from home job listings are legitimate. Only 3%. The rest are scams. So that's why I want to talk to you about these scams here today so that you could know what the red flags are and how to recognize them.
Here are the
Red Flags

you should look out for…
The prospective client asks for your financial or personal info (Credit Card, SSN/SIN, birth date, bank info, etc.). DON'T EVER give this type of information out to anyone as it is private for your eyes only.
The job posting wants you to pay or invest your own money $$$ to get started working with them. Examples are: Pay a training fee to get started, send you a check/cheque to deposit or cash and transfer to another account, become a mystery shopper, have you buy software, equipment or work-related stuff, etc.). You should never have to fork out your own money for any job posting. RUN!
You are offered the job immediately without the prospective client getting to know you better. For example, the client prospect will message or email you saying "You've got the job!" but they haven't even vetted you yet. By that I mean they haven't checked you out and got to know anything about you. Always get on a Zoom call to help weed out anyone who is possibly trying to hide their identity because they are hosting a scam. Nowadays everyone uses Zoom as a communication tool. When you work virtually trust can be an issue as you don't know who you are working with online but Zoom can help each party visually see one another and instills credibility between the parties. You can also tell through mannerisms and the way a person speaks (trust your gut) if it's a legit opportunity or one you should pass on.
The job listing has tempting money words in it like unlimited earnings, investment opportunities, quick money, make money doing nothing, etc. When it sounds too good to be true, it probably is. 😉
The client doesn't way to pay you upfront through your retainers or packages on your website. The Virtual Assistants I coach all get paid upfront before any work starts so if this prospective client doesn't want to do that, move on, there will always be another client around the next corner.
They won't pay you via normal venues like PayPal, Stripe, Western Union, Interac (email transfer), etc. If someone says I'll pay you in Bitcoin, come on, really? RUN!
If the prospect has an unprofessional email address (yahoo.com, hotmail.com, gmail.com, etc.) that's one of the first red flags you'll see. Make sure their email address (name@domain.com) is in it so that you can go check out their website and learn more about them through their website. If they don't have a website yet (maybe because you are building one for them) then at least get links to their social networks to creep them a bit and make sure they are legit.
Grammatical/sloppy errors in the job listing. That's a big sign to me that it's a job scam as professionals take pride in how they present themselves. Besides if someone could even correctly spell simple words right in their job listing this is not the high-end client I want to work for.
Watch out for MLMs, network marketing companies, and some new startups as these usually aren't the revenue stream most Virtual Assistants are looking for either although not necessarily scams. You'll be able to spot these because they will want to pay you by commission or % of sales. Usually, network marketing companies want to private message you to tell you more about the opportunity which isn't a job listing after all.
And don't fall for those sad emails or messages from an online prince who needs your help or else something bad is going to happen…BEWARE!
Oh, and when the pay is simply amazing for little effort on your part? It's probably a scam. For example, they want to pay you $5,000K a month to do nothing but answer a phone or do an easy task anyone could do that takes up little time if any, it's a scam. If it sounds too good to be true, IT IS!
Last but most important...Find out everything about your prospect by investigating and learning as much as you can about them. Creep them online without it being scary stalking. 😉 And if your investigation doesn't add up. well, RED FLAG! For example, if they don't have an online presence like a website or their social networking profiles are vague or created within the last month/two then it's most likely a scam. Google is your friend too when doing your investigation just type "scam, name of person/company/email" and if anyone else has had issues with this person it sometimes shows up in Google.
In the end, please listen to your instincts as YOU, and ONLY YOU hold your business in hand. If you have a gut feeling at all about a job listing to hire a Virtual Assistant then you need to run through this checklist I've given you and see if any red flags arise. And if any do, it's most likely a SCAM.
Don't be so DESPERATE to LAND THAT FIRST CLIENT that you become VULNERABLE to SCAMS!
Check out our busy Virtual Assistant job board. Being a tightly knit community you'll find less competition at our network so it's a great venue to land that first client.
To help other Virtual Assistants avoid job listing scams please share your experience in the comments below.