Top 10 Virtual Assistant (VA) Series
We've put together a series of Top Tens (just like David Letterman) of questions related to virtual assistance. You may use these articles on your websites, in newsletters or on your blogs, just please leave our credit by-line intact at the end of each article.
Feel free to link to our Top 10 Virtual Assistant Series on your website.
Your business is growing and you have decided it is time to hire an Office Assistant. Hiring in-house staff can become complicated. Questions to answer are "where to advertise", "what skills and experience should the candidate have", "what will their work schedule be", "what equipment and furniture do I need to purchase" or "what if they don't work out". Before writing up your recruitment ad, consider the advantages of contracting a Virtual Assistant…
Read more
Because the Virtual Assistance industry is growing so rapidly there are now thousands of VAs to choose from. And because clients work so closely with their VAs it is very important to find one that is a perfect fit for you
Read more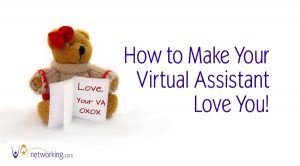 Working with a virtual assistant can be a very rewarding and profitable experience. This especially true if you are working with someone who understands your business and enjoys working with you…
Read more
Running a business can get hectic. Being organized can help. Organization saves you time, saves you money, and saves your sanity. Whether responding to emails is taking several hours a day, your office is over-run with papers, you missed a press release deadline or your customer service is suffering a VA can help…
Read more
For those of you who are still in the dark, a Virtual Assistant, or VA, is an executive level, administrative professional who works from his/her own office to support clients using some of the latest available technology…
Read more
While most services a VA offers are geared specifically to the corporate world, many times those services can be adapted to other areas. Education for instance – most people know that standing in front of a class giving a lecture is not the only thing educators do.
Read More
You are highly skilled, multi-talented VA, and you have great ideas. As a VA, communication is key to building relationships with your clients. And you'll probably be communicating with customers of your client. Actually, to the clients' customers, you are the client.   E-mail is a vital tool in your business as a VA, increasing efficiency if it is used correctly.
Read more
OK, so in case you haven't heard yet a Virtual Assistant (VA) is a real, live person who is highly skilled in their niche business market segment. Yes, a real live person! Don't let the word virtual confuse you here. Virtual is simply the term used to describe the fact that you as a business owner can indeed employ business support personal who are NOT local.
Read more
Since 2005, my ultimate information source for virtual assistant networking, professional development and support has been VAnetworking, the Virtual Assistant Networking Association. It's hard for me to choose what the top, top tools that VAnetworking offers are but if I had to, my top 10 choices would include…
Read more
You get a call from Bob, your favorite client. He's upset by a press release you sent out that has several mistakes in it, grammar and mechanics as well as content. The press release looks like a rough draft, and now it's been distributed through all the newswires and publications. Bob depends upon you to make him look good, and writing is a big part of that. What can you do to make sure that something like this doesn't happen again?
Read more
The virtual assistant industry is a booming one. However, if you are just starting out, you might be experiencing some concerns. Perhaps you are having a hard time getting new clients or maybe the long hours were not something you bargained for…
Read more
For small business effective seasonal marketing campaigns can mean real big business. It is after all the busiest season of the year. Almost every business takes advantage of some sort of marketing gimmick from Holiday Barbie 2007 to Stocking Stuffers for your pets…
Read more
Have you ever wondered, "What exactly is that Virtual Assistant that you keep hearing so much about?" The answer is simple. A Virtual Assistant, or VA, is an administrative professional who provides immediate professional support, services, and skills to busy entrepreneurs and business managers via the Internet…
Read more
The Virtual Assistant industry is on the rise as more and more businesses use this service to outsource some of their tasks. The internet has enabled professional Administrative Assistants to leave the corporate world and set up their own businesses, providing skilled support to busy entrepreneurs and business managers…
Read more
Most small businesses or entrepreneurs do not have a large budget for hiring additional staff when demands warrant it. Often times, a business owner may think it is more cost effective to do the work themselves rather than spending operating capital on part-time staff…
Read more
---
Many thanks to our VAnetworking members who have contributed to our Virtual Assistant Top Ten lists:
Helen Byrne, Diana Ennen, Dawn Goldberg, Erika Martlew, Frances Palaschuk, Dusty Warren, Kara Wierzbowski, Angela Wills, Sherra Scott
---
If you are a Virtual Assistant and would like to submit your Top 10 article for publication on our website and other marketing materials association with VAnetworking to help promote virtual assistance, we will thank you with one month of free Bronze Advertising at VAnetworking.
Here are some ideas for topics:
Top 10 Ways a VA Can Improve Communications in Your Business
Top 10 Ways a VA Can Assist You With Your Marketing
Top 10 Ways a VA Will Help You Improve Your Office Organization
Top 10 Ways a VA Can Increase Ccustomer/Client Relationships
Top 10 Ways You Can Use a VA to help you with Your Joint Ventures
The topics are endless on the Top 10's a VA can do to improve business success so send your submissions and receive in exchange, free banner advertising at VAnetworking!
By submitting your essay entry via email to us, you acknowledge and thereby allow Mediamage Business Solutions to use your Top 10 article, name, business name/url in any future marketing materials and/or promotional products via our website to further help educate and train others about Virtual Assistants.