Contributed by Alica Jay from NewVAAdvice.com
When I first officially published my virtual assistant website, I was so nervous. Did I forget to add any information? Will they understand what I do? Did I spell everything right? Did I make it easy for them to contact me?
The reason that I was so worried is because I felt like having a live website meant that, instantly, there was the potential for thousands of people to see my site out there in the big wide internet world.
I had the whole "build it and they will come mentality" when it came to creating a website.
But you know what really happened when I went live with my site?
A whole lot of nothing. And I thought, "What gives?"
That's when I learned an important lesson.
It's not just about having a website out there. Potential clients aren't just going to stumble upon your site and immediately contact you to work with them.
Instead, you need to get yourself out there–let them get to know you.
And that's where content marketing comes in.
It doesn't have to be complicated and overwhelming.
When you break it down, content marketing is really about how you're presenting yourself to potential clients, letting them get to know you, what you do, and how you solve their problems.
Don't just wait for them to come to you. Show them what you've got.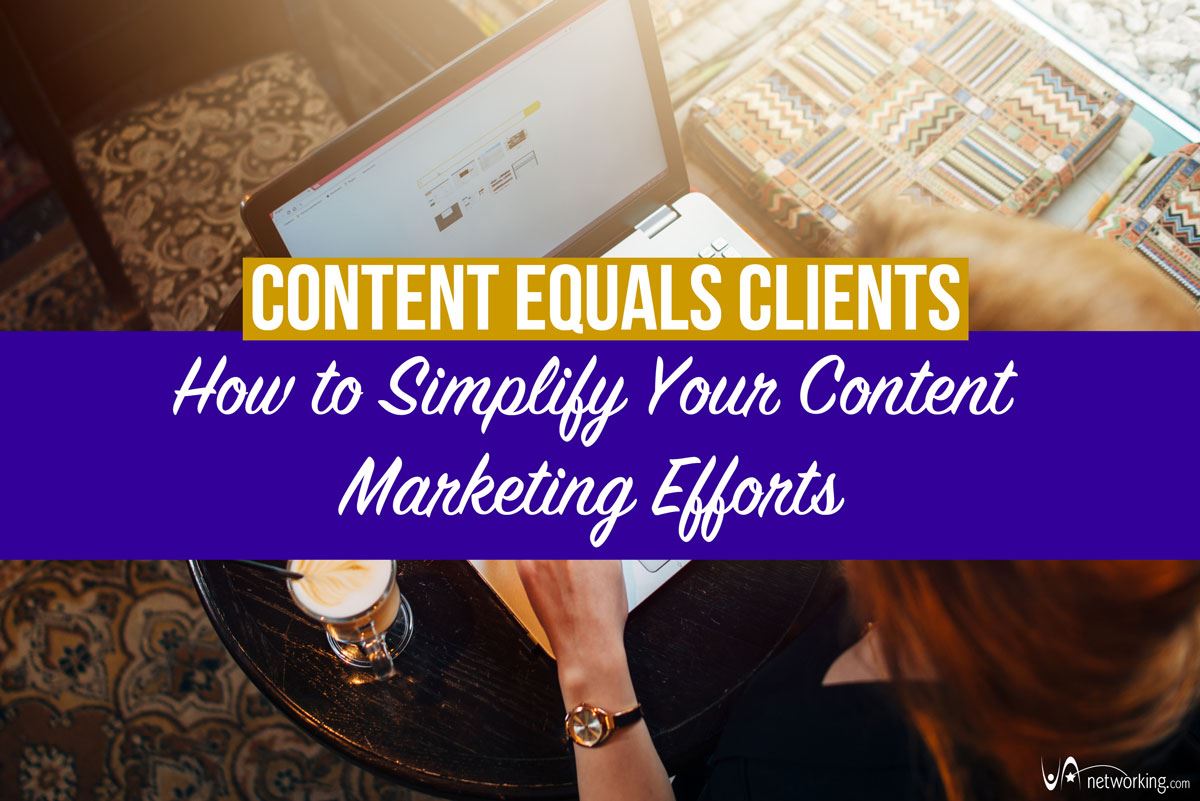 Here are my top content marketing tips:
Know your market and how your services help them. Get clear on this first.
Don't think of it as selling. Instead, be helpful.
When it comes to the type of content that you create, think about what your potential clients want to know. Consider sharing things like quick tips, how-to posts, and industry news.
You don't need to be on EVERY social media platform. Start by focusing on two where you find your potential clients, and really connect with them there.
Figure out the medium for your content that works best for you. Not everyone is a writer. You can use PLR, videos, audio and graphics. Consider which would be easiest for you to get started with, and try it!
Want to learn more about content marketing and how you can make it work for your VA business?
Then join me at Season 17 of #VAVS (VA Virtuosos Online Seminars)!
My session is all about how to rock your content and get clients. You'll learn:
Mistakes VAs make with content marketing—what not to do
How to automate and organize content marketing
How to NOT spend 20 hours a day creating and sharing content
Real life examples of VAs doing content marketing right
And that's not all you'll learn at #VAVS. Join me and 19 other speakers for 5 action-packed days with sessions that are sure to help propel your VA business forward.
#VAVS Season 17 runs from November 5-9, 2018.