Contributed by Mark Hunter from Mark of Approval
To think I was only a child when the internet first became available to the public.
And if that isn't scary enough, my younger sister started building websites before I did.
In those days, it wasn't easy. You had to construct the website using the same code the browser reads – HTML.
This was very depressing for many want-to-be web designers because there was no visual way they could bring their concept onto the screen. I guess becoming a graphic designer was the next best thing?
Well, as it happened; I was a late bloomer and only started dabbling in this type of code when I graduated from college.
But skip a decade or more to the present and here I am. Someone who knows programming, HTML, and styling.
And yet someone who doesn't need to know it lol.
You see, websites today are much easier to create.
Yep. There are more tools than you can poke a stick at.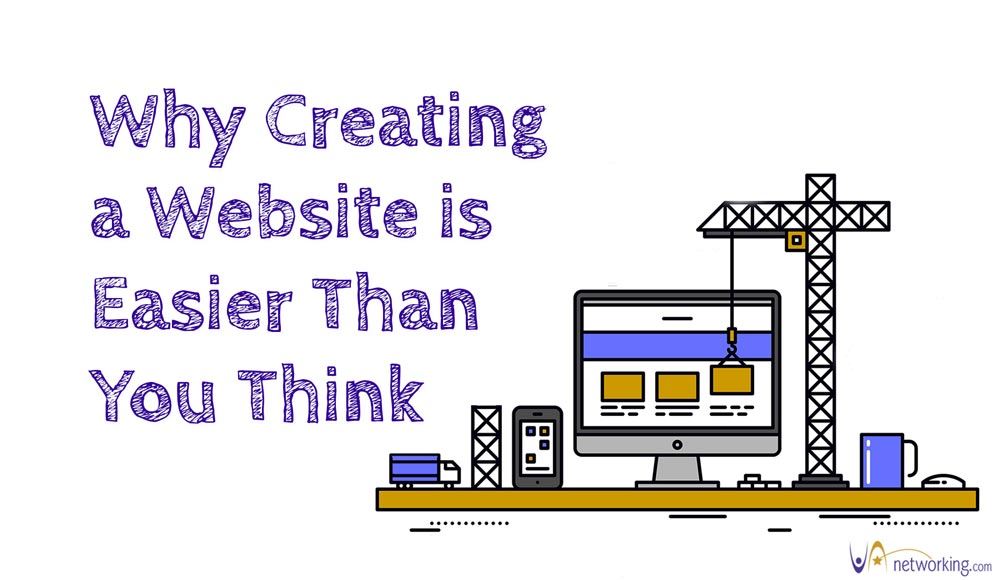 So now let's look at 4 reasons why things are easier today.
Reason #1: Lots of tools
I think this is worth going through again. We have a lot more tools at our disposal these days.
Now, I'm not talking about tools like Dreamweaver or Photoshop that makes it possible to create something.
I'm talking tools more generous than just that.
I'm talking tools that do the work for you!
Look at Canva, for example. Compare it to Photoshop and what do you have?
A tool that not only creates images but gives you the drag and drop template to practically do the design for you!
Believe it or not, there are tools like this that make creating websites just as easy.
Whereas WordPress may be like Photoshop, it has plugins like Divi that are analogous to Canva.
You hearing this? You can actually create page templates with drag and drop functionality. How cool!
No more HTML 🙂
Reason #2: Free Plugins make it simple to get started
Ah! Don't you just love the word "Free"?
While I believe firmly in investing in the right tools, it is nice to know you can test the waters with free stuff.
And yes, WordPress is the ultimate way to go for building websites. It's free and has plugins that take on the same license. FREE!!
Need a free page builder with free templates? Try Elementor.
Want more? Then upgrade later.
How about improving and controlling the elements of SEO on your website?
Try Yoast SEO. If you like it, maybe you'll upgrade to the premium.
And what about keeping your site safe and secure? You guessed it! We have Ithemes Security, Wordfence and countless others starting at free.
Try having these tools developed in the 90s.  They'd have cost us a darn fortune. I mean like 100k per program!
I hope this is starting to become clearer now. Why creating a website is so much easier by leveraging the work of those before us!
But just in case, let's look at some more reasons …
Reason #3: Themes!
Remember my sister I told you about earlier? Well, she is still in the HTML mindset. One of the funniest things she said to me was this:
"Mark, why don't you program a system that lets you change its visual appearance without affecting the content. You'd make a fortune."
Sorry sis, it's already been done and it's called WordPress.
Or Drupal, or Joomla or…
My point is, this technology is a reality. We have a system that not only allows us to build websites, but also allows us to change the appearance of it at any time.
And you know what? Themes for WordPress have gotten a lot better over the years.
Don't bother with Twenty-Sixteen. In fact, don't bother with Twenty anything. We now have Astra, Divi, Genesis and a whole suite of other themes.
Themes not only change the appearance of your site, some of them also offer us advanced superpowers like adding subscriber forms anywhere we want or changing our logo with one click.
If you are still living in the mid-90s or early turn of the century, you might feel this is a fearsome task. After all, changing your logo or sidebar would require you to update every single HTML file in sight.
Now it's just one click and the whole thing is visually updated.
Now, all this seems nice in theory. But you still have a learning curve, right?
True but…
Reason #4: There's lots of great learning resources out there
That's right. Because WordPress is so popular and free, you won't have a shortage of finding materials that will teach you how to use it.
Here is a list of a few common training sites:
com
WP Apprentice
iThemes
Team Treehouse
These are just to name a few.
Psst, if you wanted to check out more about the tools we discussed here, you can also check out my free mini course.
Find out more here
And don't forget to check out Facebook groups for more information on how to do something with WP.
A few recommendations for VAs that come to mind offering a blend of WP and service provider know how include:
Business is Better Together by Kelly McCausey
The Laptop Lifestyle by Angela Wills (paid)
VA Classroom by Craig and Kelly Cannings (paid)
VA Directory by Kathie Thomas
Savvy Business Owners Unite by Tammy Durden
Your Virtual Assistant BFF
Final Thoughts
I hope you are finally seeing just how easy it is to create your own website, or website building business in today's online world.
Whether you are looking for free tools, support or community; you are bound to find it online.
I do encourage you to pay for things as you scale up. But right now, there are lots of free things to let you dip your foot into the water and feel things out.
And don't be afraid to turn this into a business. People will pay for your knowledge and ability!
Any comments or hesitations on why you feel you can't move into this business, let's discuss them below.