Are you tired of the daily grind of a 9 to 5 job?
Do you long for a career where you can work on your own terms, without the need to constantly please your boss?
Then maybe it's time to consider becoming a Virtual Assistant!
So, if you're ready to take the leap into the world of Virtual Assistants, read on, have some fun, and discover what this exciting field has to offer!
As a Virtual Assistant, your life can be a blast,
Work on your terms, and say goodbye to the past.
No office politics, or bosses to please,
It's just you and your clients, living with ease!
Work wherever, whenever, with whomever you choose,
Your business is yours, and you set the rules.
From admin tasks to marketing plans,
You handle it all, you're the superhero of brands!
But being a VA can sometimes feel lonely,
Working solo can make you feel quite homely.
That's why you should join our community of souls,
Where you'll find support, and achieve your goals!
Share your tips and tricks, and conquer with ease,
With webinars and events, there's so much to seize!
It's a place where you belong, and you'll adore,
A community that cares, and opens new doors!
Take your VA biz to the next level, and fast,
Join us now, and see what's special that lasts!
We'll help you grow your biz, and reach your dreams,
A community that cares, and nothing is as it seems!
With our support, work the way you want, wherever, whenever,
With whomever you please, join now to endeavor!
Don't wait, see your business thrive,
Join our VANA Community, and make your journey come alive!
~ Tawnya Sutherland, Founder of VAnetworking.com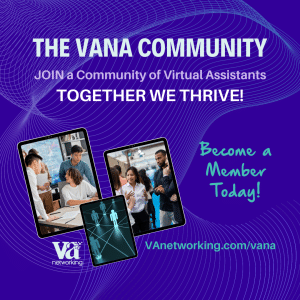 I wrote this poem because being a Virtual Assistant can be an exciting and fulfilling career, but it can also be a lonely one. That's where our VANA Community comes in – a place where you can find support, friendship, and resources to help grow your business.
As a member of our VANA Community, you'll enjoy numerous benefits, including:
Access to a supportive network of like-minded individuals
Opportunities to learn from industry experts in their niche
Sharing of tips and tricks with other freelancers working online.
Collaborating with others to solve problems and grow your business
Discounts on tools and resources that can help streamline your work
PLUS access to me, Tawnya Sutherland, to share with you my 2 decades of knowledge working in the VA industry.
All of this and more are available to you for just $9.70 per month $9.70 per month (cancel at any time) OR the BEST DEAL is $97/ year (SAVES you 2 months!)
Don't miss out on the chance to take your VA business to the next level and join our community today!
LEARN MORE HERE & JOIN THE VANA COMMUNITY TODAY!
WAIT, FOR A LIMITED TIME ONLY…
When you pay for a full year at $97, you'll also receive a FREE listing in our highly trafficked VA Business Directory. This is the perfect opportunity to market your business all year round and attract more clients to help your business thrive.
Don't miss out on the fun and freedom of being a VA and a member of VANA Community. Sign up now, and let's rock this VA world together!
Start living your best VA life!
Cheers to a fulfilling and fun career as a Virtual Assistant!