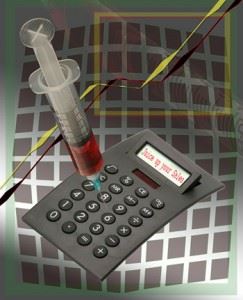 Taking a cue from the healthcare services who are preparing for flu season, ask yourself if enough preventative measures have been put into place to ensure you have a healthy thriving business? Does your business show a few signs and symptoms that operations aren't functioning at peak levels? Admit it working in the day-in-day-out trenches can make it hard to see a clear picture. It takes a step back to bring everything into proper focus. Even consulting with a trusted colleague to help give you an unbiased viewpoint is a good idea.
A known cure is available. If you have any of these signs and symptoms then keep reading.
7 Signalers of the Need for a Business Booster Shot
Delayed or absent enjoyment from work that had previously brought you pleasure and satisfaction.
Feelings of overwhelm when you consider the quantity of work that needs to be accomplished weekly.
Frequent mistakes and a compulsive feeling to check and re-check your work so nothing slips through therefore squashing your creativity and productivity.
Mounting stress levels as you think about how much is on your plate daily.
Heightened irritability resulting from the inner tension you're feeling. This isn't your typical attitude but the snarky remarks do slip out from time to time.
Slower response times to answering emails, answering inquiries, project turnaround times, and most every other work task.
Becoming hopelessly behind in your projects and business goals.
You no longer need to be held back and endure the sufferings. A viable remedy for getting your business back on the road to recovery and taking purposeful steps towards strong business health is spelled V-I-R-T-U-A-L   A-S-S-I-S-T-A-N-T. Working with a strategic partner (aka a VA) to equalize the tasks and find solutions can feel like a miracle but it's really the coupling of two business minds working towards one vision simultaneously. Knowing you have someone equally interested in your business success and goals, someone who is also a business owner, someone who specializes in the areas that aren't your strong suits can remove the heavy weight that feels like an anchor pulling you under.
Finding a Virtual Assistant
Chances are you know someone in your networking circle using the services of a virtual professional. Ask your colleagues whose services they are using. Google 'Virtual Assistant' or 'Virtual Assistant + the name of the service(s) you need' and you'll be presented more choices. Submit a RFP (request for proposal) to one of the virtual assistant organizations, like VAnetworking's RFP page, and you'll receive specific answers to meet your immediate needs.
7 Tips to Getting Quality Responses to Your RFP
Include your name, business name, and website URL. Businesses like to know who they are partnering with. Virtual assistants are no different and you'll discover that VAs will often pre-screen his/herself to complement your style and services. If you want to have a cloaked RFP than at a minimum include which industry your products and services serve.
Include a listing of the services you require. Indicate if the person responding must have knowledge of all services being requested, if a partial list match is acceptable (meaning more than one VA may be needed), or if you'll train the right candidate.
Indicate the deadline for submittals and if a decision will be made after that date or at any time during the process. Basically, will you wait to review each RFP after the deadline date or if an interesting prospect comes through you may contact, interview and contract with that person before all RFPs have been received?
Indicate if you are willing to answer questions regarding the RFP. Sometimes, a VA will need a bit more information to provide you with a complete proposal.
Briefly describe what you are seeking in your ideal VA. Someone who's organized, dependable, has experiences in "X" . . . you get the idea.
Consider indicating if there are any benefits for the VA in partnering with you. A bold statement to consider, I know. What do you bring to the table to attract the VAs possessing the skills and experience to help you to the next level in your business? Afterall, VAs aren't employees but other business owners who want to partner with mutually beneficial business owners. Who would be a good match to partner with you on your projects?
Lastly, the follow-up. After each RFP has been received, schedule your phone interviews, make your decision, and send a brief email to those not selected during this process. A nice business courtesy that showcases the type of buisness person you are.
Are you ready to ensure you have a healthy thriving business? Getting a business booster shot can be painless and truly will make you a stronger business entity. Cheers to your business health!