You're a Virtual Assistant and you live and breathe by your clients, right? That makes getting and keeping more clients paramount to your success right?
Here are six quick tips for getting and keeping more clients.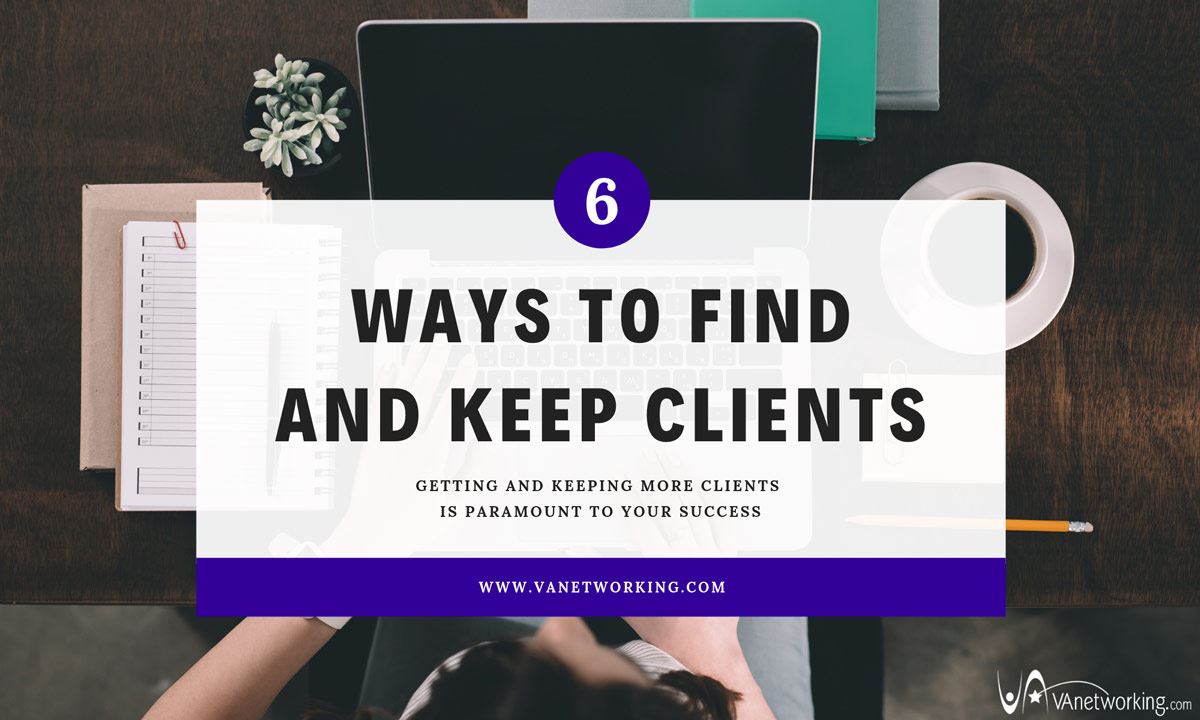 1.  Ask your clients for referrals.
There's nothing wrong with doing this. In fact, clients are often happy to refer you to others, they just need to be reminded to do so. And, if you can create a referral program where your current clients receive a discount or credit for your services, then all the better.
2. Be a consummate professional.
If you're an excellent person to work with, you'll keep your clients – even if your rates are a bit higher or your timeline a little bit longer than other virtual assistants and freelancers. The truth is, we place a high value on our business relationships, at least the clients you want to work with do. And if you can build a strong relationship with your clients, you'll keep them for the long haul. They'll also talk about you, and word of mouth is a great, and free, marketing tool.
3.  Communicate with your clients on a regular basis.
If you don't an opt-in list and/or an email marketing campaign yet I recommend you work on putting this together ASAP. You want to email your clients regularly to connect with them, stay in the front of their mind when they have a need or when someone asks them if they know of a good virtual assistant they will think of you.
There are two approaches to regular client communication and you can combine the two approaches as you see fit which are:
Send your client list an email once a month, or more often if you like, highlighting a promotion. For example, "10% off any orders of $100 or more for the month of January."
Send your client a note or greeting card when you're thinking of them. For example, "I saw this article in the Wall Street Journal and thought of you." This helps build a relationship with them and it's a great way to stay connected. I use Send Out Cards to keep in touch with our clients. It is an online greeting card system that simple to use, convenient and very personable. Try Send Out Cards for free by clicking here.
4. Get out there and get noticed!
Participate in social networking, blog and be a guest blogger. Generate awareness about you and your services. One new client can turn into thousands of dollars over the course of a year and they can refer other clients.
5. Be helpful.
Be willing to help and inform others in your community even when there isn't any apparent reward.
Whether you believe in the law of attraction or not, when you give to others, they give back. This doesn't mean you give away your services; what it means is that you're willing to help others by providing insight, information, and a listening ear when they need it without expecting anything in return.
If your client is trying to resolve an issue and you can help them with your experience, help them. They'll appreciate it and you never know when they'll be able to return the favor.
Much of the art of keeping clients has to do with building relationships, and it's also intricately linked with getting new clients. Word of mouth from satisfied clients is a wonderful way to fill your schedule with your ideal clients and projects. Connect!
6.  Keep your VAinsider Club Membership up to date.
Many don't realize it but when you are a VAinsider Club member you have access to one of the most prominent and busiest job boards out there for Virtual Assistants with new jobs coming in each and every day. We also provide you with extensive training and resources to help any Virtual Assistant business grow.
The VAinsider Club is made up of both new and veteran VAs that truly care about the success of their business and the VA industry, as a whole. VAinsiders understand that creating a solid and successful business takes the support of others and the VAinsider Club is providing that support for them. The VAinsider club has become a place where members can get answers to their questions, celebrate their successes and just "hang out" with like-minded business owners in a fun, collaborative and exciting way.
Check out our VAinsider Club by clicking here or invest in our Virtual Assistant Career program which includes VAinsiders Club for a full year.