Contributed by Diana Ennen
Finding the right virtual assistant niche is a great way to build your virtual assistant business with the best clients for your particular niche.
So what exactly is a niche? Easy, a niche is a target market or industry whose needs fit well with a particular skill set. It's defining the clients you want to work with and the services you want to provide. You will also be able to market best to find the right clients once you are clear on your niche as well.  When you aren't all over the board, your marketing works best.  And the great thing about the virtual assistant industry is that the opportunities for matching the right talents with the right niche are tremendous.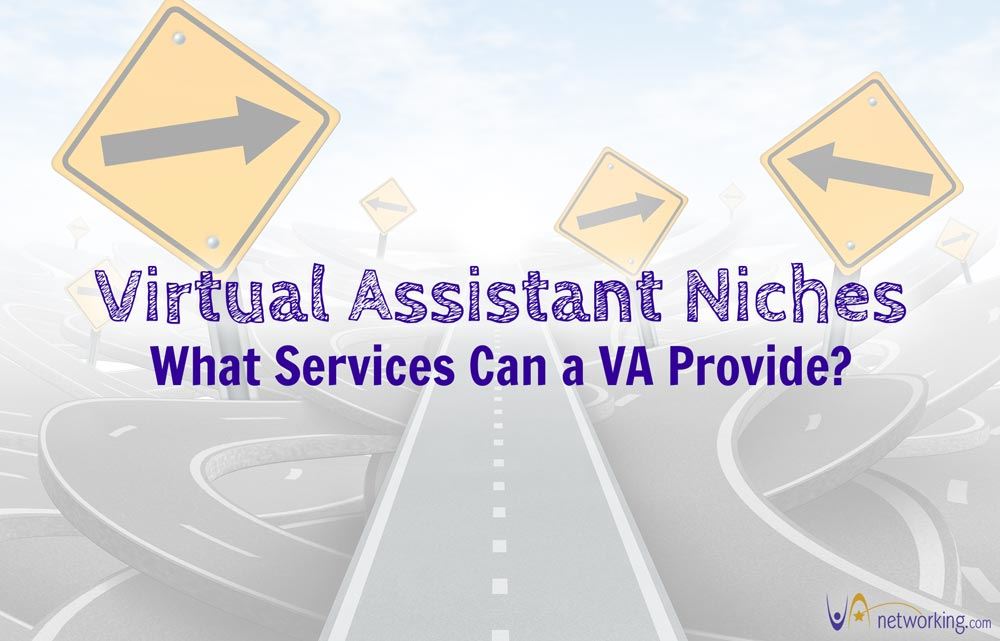 Here's a breakdown of a few Virtual Assistant Niches and some of the services they provide:
Publicity Virtual Assistants – Marketing VAs – PR VAs (My favorite of course)
Finding the right type of marketing for each individual client
Writing and sending out press releases and articles
Helping with book promotions and business promotions
Sending out pitches to the media and landing clients radio shows, TV engagements, mentions in major magazines & newspapers, blogs, etc.
Helping client's blog and also send out regular newsletters
Connecting it all together. When they get great press, preparing social media postings and adding to their blog, etc.
Author Assistant Virtual Assistants – Authors are an excellent source of work for VAs. 
Editing – Proofreading
Typing of manuscripts
PR and marketing (That alone is enough!)
Ebook and book creation (typesetting too)
Social media marketing
Landing speaking opportunities
Speakers and Coaches – They have very similar roles so often virtual assistants target them both.
PR and marketing – article and press release marketing, building their brand, promoting events, pitching the media, list building
Teleseminars – scheduling, promoting, recording, transcribing
Websites – design and maintenance, blogs, membership sites, landing pages
Writing – develop courses, homework assignments, e-books, presentations, opt-ins, sales sheets
Creating videos
Real Estate Virtual Assistants – The real estate industry is huge now. 
Verify and setup appointments with buyers and sellers
Prepare and proofread documents and various paperwork
Update listings
Respond to email inquires
Calendar Management – Keep track of the calendar for busy agents
Administrative tasks
Marketing – Everything from research to sending out press releases and pitches. (Articles perhaps on how to sell your home, best tips for staging, etc.)
Bookkeeping Virtual Assistants – Truly a best friend too many especially this time of year!
Bank Reconciliation
Client Invoicing (huge help for businesses)
Keeping books on a monthly basis and reporting findings to clients.
Year-end tax assistance & tax preparation
Payroll
Quarterly taxes
Event planning virtual assistants –   The key to a successful meeting is planning and careful attention to every detail.
From planning the event to more advanced things such as getting sponsors, etc.
Finding venues or coordinating with speakers, hosts, & those coming to the event.
Travel arrangements.
Technical work. Too much to even name here, but it's a lot.  You want the speakers to sound great and also be able to show their slides if they have them, video them if they like, etc.  You want it all to run like a well-oiled machine.
Front desk support. Registering attendees, etc.
Social Media Virtual Assistant – With all the constant changes in social media today, they can be so instrumental.
Writing & scheduling social media postings
Creating social media images (Canva, etc.)
Blogging – writing, setting up, etc.
Updating profiles (Facebook, LinkedIn, Twitter, etc.)
Adding articles where you can – (LinkedIn, etc.)
Setting up events & contests, etc.
Setting up ads
Reporting – very important, what's working, what's not.
Also, note often times niches overlap.  You can have several niches, just make sure you rock at them all.
Diana Ennen, President of Virtual Word Publishing, offers PR and Marketing services, book marketing services, and PR and Virtual Assistant Coaching. She also offers PR Classes including her latest PR Success Series. She has been featured in USA Weekly, Forbes, Inc. Radio, Fox News, Women's World, USA Today, CNN, Wall Street Journal, and many more. Follow her on Facebook and Twitter