Do you love wearing t-shirts as much as I do?
I love the fact that t-shirts are cool and comfy (especially since I'm going through that hot flash stage in life LOL) plus they just never seem to go out of style. I can wear a t-shirt with my everyday jeans while working from home or mix it up with a cardigan and skirt for casual conference attire.
*** HANG TIGHT…In a minute here I'm going to tell you how YOU can WIN a T-shirt in my VA T-shirt Tagline Contest ***
Lately my favourite t-shirt is a purple one with the hashtag #justsayin on it. This t-shirt always gains me all kinds of attention whenever I wear it. Some will ask me what it means, others who are familiar with hashtags will chuckle and say something about it. Those who are close know I say this saying all the time so get a laugh from it. More times than not it gets a conversation going about online marketing which is my niche so works for me from a business standpoint 😉
The t-shirts I wear always make a statement depending on what is printed on them. (CLICK HERE for VA T-shirts).  Being a marketer, wearing t-shirts has helped me gain some incredible exposure for my business and it can for you too.
Let's talk about the power of marketing with t-shirts…
You've got to wear a shirt anyhow so why not market through them?
Walking Billboard – You can become a walking billboard for your business. Put your logo on your t-shirt, your URL or how about your twitter handle? @vanetworking. I go walking on the board walk all the time for my daily exercise. If I was walking behind a person that was wearing a t-shirt branded on the back with their business I'd have their URL or phone number burned into my brain after 20 minutes of following them during my walk. Think of the marketing potential here just from wearing a branded t-shirt.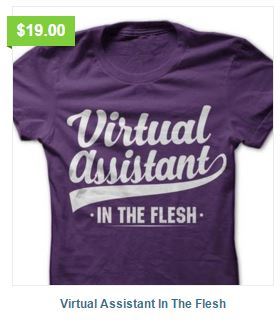 Ice Breaker – Having a witty/funny tagline on your t-shirt can definitely break up the ice with a new acquaintance and start the conversation flowing. Like "Virtual Assistant…in the Flesh!" If someone didn't know what a Virtual Assistant was more than likely they would ask you what it was if you were wearing this t-shirt. If they did know what a Virtual Assistant was they would probably still comment to say something like they've heard of virtual assistance before or that maybe they just hired a new VA. If you want to break the ice and get a conversation going there is no better way than a t-shirt that gets the conversation started.
Client Magnet – Be creative with the words or images on your t-shirt to help spark conversation with a prospective client. Play on a prospective clients emotions by putting them in a scenario they can relate to with a descriptive t-shirt. They say that even big CEOS make major decisions based on an emotional moment. Make your t-shirt design trigger a prospective client into hiring you on the spot!
ie) Cartoon image of a tired looking man sitting at his desk that is overflowing with files with the words "Overworked? Ask me how I can help you."
VA T-shirt Tagline Contest
I'd love to create some NEW t-shirts to add to our collection of VA t-shirts I sell online and I'm brain dead this week when it comes to thinking up some cool words to put on these t-shirts. Please submit to me your taglines, words, phrases or graphic ideas for a t-shirt that you feel other Virtual Assistants would love to wear. You can submit as many t-shirt ideas as you like.
The winner of the best tagline (chosen by the VAnetworking.com team) will WIN a T-shirt with their tagline on it (just like these t-shirts) PLUS a One Year membership to my VAinsiders Club (value $333).
Last day of submission is January 31, 2016. I'm looking forward to all your creative ideas coming in so I can get myself some new T-shirts to spread the word about the Virtual Assistant industry.
To Your Virtual $uccess!



Founder of VAnetworking.com in 2003
The Market Leader of Virtual Assistants
*NOTE: All taglines submitted may be made into t-shirts and sold through the SunFrog website. Please read their legal policies and procedures here.